Honoring those who make a difference.
The Circle of Care program is a simple way for grateful patients, families, and friends to acknowledge an exceptional caregiver who went above and beyond to make their experience at Stanford Health Care – ValleyCare a little easier. Whether you choose to honor an outstanding physician or nurse, an attentive dietitian or physical therapist, a cheerful housekeeper, or perhaps a caring volunteer, your donation is a meaningful way to say "Thank you" and help future patients and families at the same time.
When you donate, you may also include a note of thanks. We will share your note with the honoree and recognize them with a special Circle of Care pin that they can wear to commemorate your generosity and their compassion.
A grateful patient shows gratitude for exceptional care with a gift in honor of Dr. Lorena Tan, Family Medicine practitioner: "Thanks for being a dedicated and compassionate doctor to us and all your patients."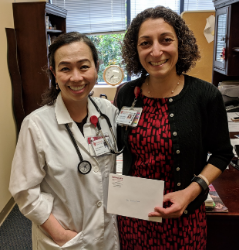 Dr. Tan on the three words that best describe her approach to medicine:
"Listen, care, knowledge. I think a great doctor must have all three of these qualities. What good is a doctor if they care and listen but don't know what to do? Or if they are caring and knowledgeable but don't listen? I strive to do all three."