ValleyCare Charitable Foundation over 50% toward overall $1M Goal
For Immediate Release:  October 15, 2018
Livermore, CA – The campaign continues. The community met the Matching Challenge and helped claim the matching funds offered by Lynn and Joan Seppala to support the Campaign for Stroke Care at Stanford Health Care – ValleyCare, which will provide the Tri-Valley community with lifesaving, critical stroke care. The ValleyCare Charitable Foundation has surpassed the $570,000 mark toward the campaign goal of $1 million.
"We would like to thank Joan and Lynn for their incredible support. The Seppala Matching Challenge generated support from almost 200 donors, near and far!" says Shaké Sulikyan, Executive Director of ValleyCare Charitable Foundation. "Donations are already hard at work in the first phase of launching a certified stroke program at Stanford Health Care – ValleyCare. Since strokes are the third leading cause of death in California, priority purchases during the first phase include a specialized robot for use in the TeleNeurology program, state-of-the-art CT imaging techniques to help in emergent treatment decisions, and specialized training sessions."
In early October, front-line staff participated in a day-long training that included lectures on the brain and strokes, information about newest procedures and protocols for treating stroke patients at Stanford Health Care – ValleyCare, and hands-on simulations and training exercises.
Only 22% of stroke patients reach the hospital in time to receive lifesaving treatment and reduce serious complications. Dr. Prashanth Krishnamohan, Medical Director of Neurology at Stanford Health Care – ValleyCare, and Clinical Assistant Professor, Neurology & Neurological Sciences at Stanford University, brings his incredible experience and expertise to our community hospital to help launch a world-class stroke program at Stanford Health Care ValleyCare. He is acutely aware of the urgency of immediate treatment when a stroke occurs.
"Thanks to donations from our community, we are well on our way to launching a certified stroke program that will help meet the needs of patients in our community," says Dr. Krishnamohan. "We know that for every 1,000 patients with stroke, every 15 minutes acceleration in transfer and treatment is associated with 4 more lives saved, 18 more patients walking unaided, and 7 more patients being discharged home instead of to a long-term care facility. We know that time is brain when it comes to strokes. We look forward to having the required credentials to accept ambulances and treat stroke patients right here in their community." ValleyCare Charitable Foundation is making progress toward the $1 million goal for the Campaign for Stroke Care. Even though we've made great strides toward reaching this unprecedented goal for the Hospital, to become a certified stroke center and better serve the needs of the community, we still need support from donors to bring the Campaign to its successful conclusion by December 31.
To learn more about the Campaign for Stroke Care, visit www.valleycare.com/stroke or contact the ValleyCare Charitable Foundation at either or 925-373-4560. www.vccharitable@stanfordhealthcare.org
####
ValleyCare Charitable Foundation (VCCF) is an independent, not-for-profit 501(c)(3) charitable organization dedicated to the health and betterment of the Tri-Valley through our ongoing funding of our community hospital and its innovative medical programs. Forward thinking and community-driven, we help ensure that you and your loved ones have access to world-class medical care and life-saving technology.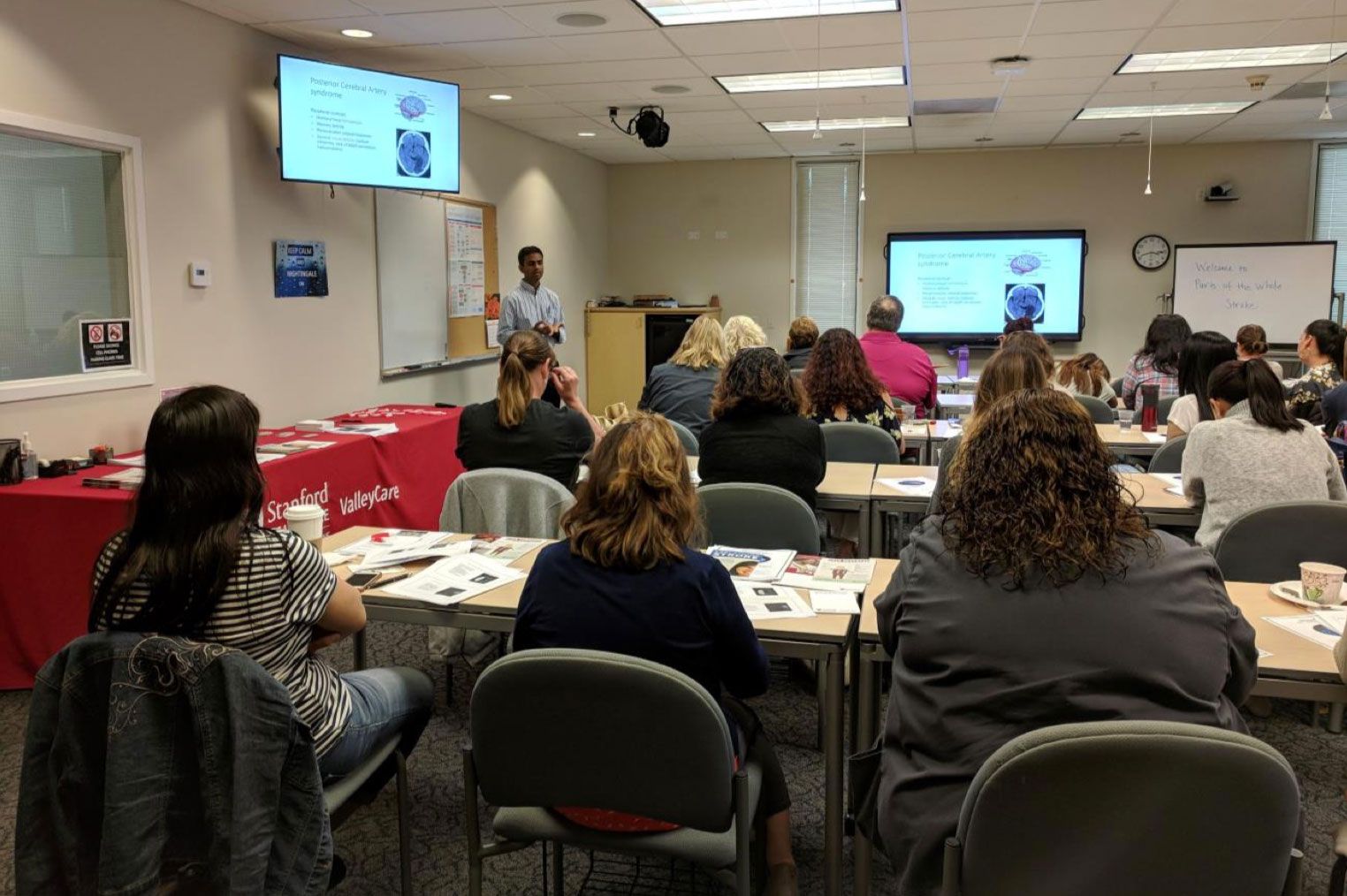 Photo of Dr. Krishnamohan providing information about stroke to front-line Stanford Health Care – ValleyCare staff.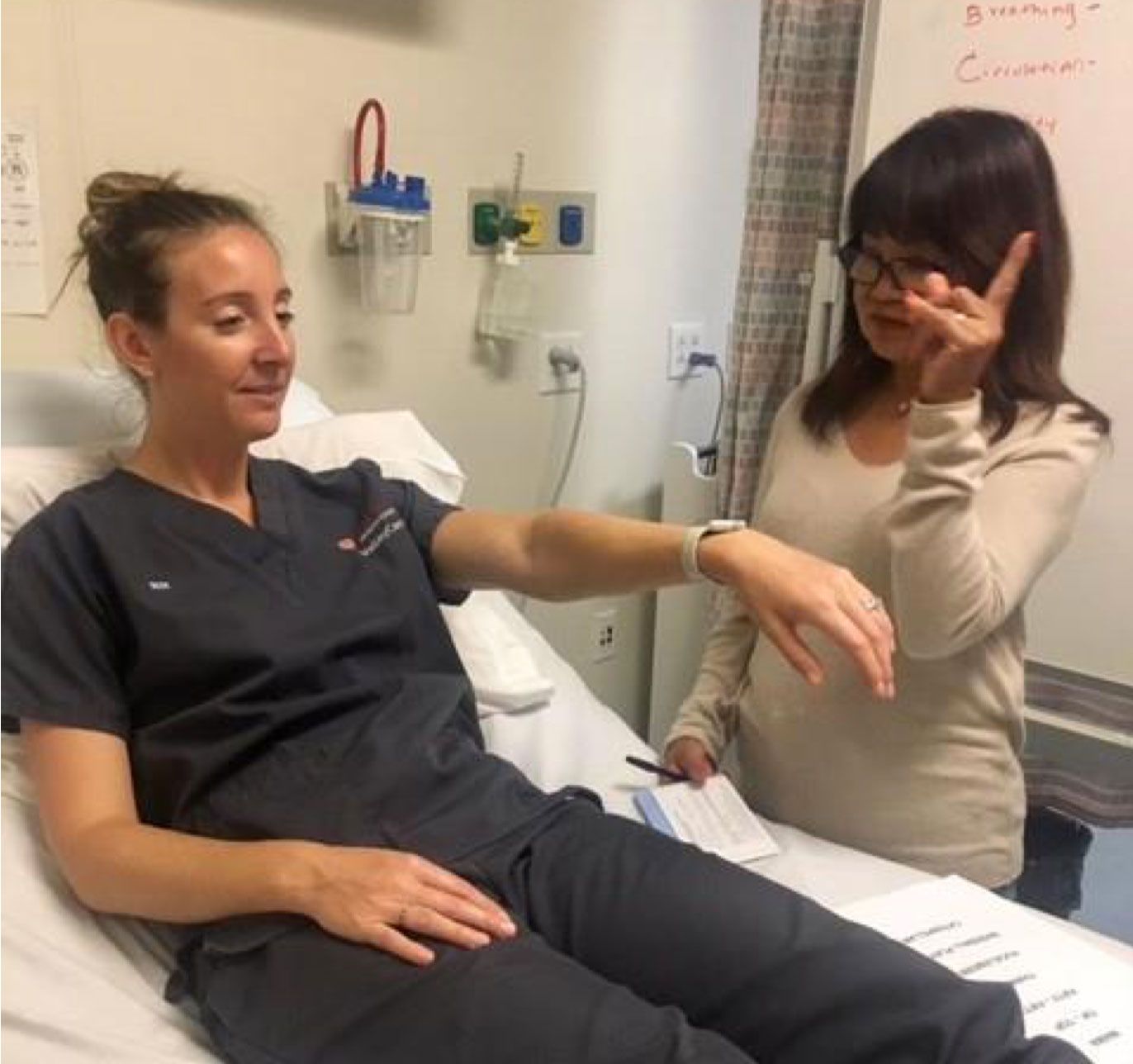 Stanford Health Care – ValleyCare front-line staff taking part in a hands-on stroke straining.
Contact: Gayle Cowan, Administrative Assistant
Phone: (925) 373-4560
Email: GCowan@stanfordhealthcare.org