The Wish Project Brings Comfort to Dying Patients and Their Loved Ones
For Immediate Release May 1, 2019 
Pleasanton, CA -- Despite a trial of optimal therapy at Stanford Health Care – ValleyCare, doctors were unable to improve Romelia's medical condition. Romelia, her family, and her providers had many discussions and eventually accepted that she would pass away in the coming weeks from her condition. She was referred to The Wish Project by her doctor and was visited by a volunteer, Betts Cravotto. The project grants wishes at the end of life, to celebrate the patient's life and passions while also easing grief for families and friends. "After discussing various ideas with Betts," says Ronaldo, Romelia's son, "I thought a mariachi band would be very special for my mom. She loves mariachi music, and having the band here and allowing her to come outside means so much to us."
Even with many advances in medicine, all patients and their care teams must face death as an eventual reality. This is an aspect of medicine that is tough for everyone involved: the patient, family, friends, providers, and other medical staff.
About 25% of patients in the United States die in acute care settings, places that hold no special meaning for the patients and their family members. Stanford Health Care – ValleyCare launched The Wish Project as a means of easing the grieving process for patients and families and allowing staff to provide support to their patients when they're unable to offer medical care and interventions in the traditional sense. "I remember when I went through this with my mother; having someone you care about die in the hospital is such a painful and lonely experience. I did not like the idea of having so many patients of mine and their families share that same ordeal. I started this project to try to bring some honor to these people and hopefully leave their loved ones with a positive memory at the end," says Dr. Minh-Chi Tran, Stanford Health Care – ValleyCare Hospitalist and Clinical Assistant Professor, Medicine, Stanford University. "We think these small acts will continue to foster our small, caring community. We are honored to bring this project to our patients and their loved ones."
"The wishes are generally small and low-cost but can be extremely meaningful to the patient and their families and friends," says Cravotto, the lead volunteer assisting with The Wish Project. "Wishes can be as simple as providing a few pints of gourmet ice cream to the patient, getting permission for a pet to lay in the patient's lap during their final day of hospitalization, arranging for a special meal, framing the patient's heartbeat, creating a 'word cloud' framed piece, or playing the person's favorite movie or music. The mariachi band performance was our most visible and public wish so far. We are thankful to the family for allowing us to share the experience with other patients and members of our hospital community."
Since the launch in June 2018 with a gift from ValleyCare Charitable Foundation and support from clinical team members and volunteers, The Wish Project has granted about 20 wishes to Stanford Health Care – ValleyCare patients. "Coming to terms with my mother's declining health has been difficult, but sitting here with my family on this beautiful day, listening to a live mariachi band has brought joy to my mother and us," says Nancy, Romelia's daughter.
Cravotto and Dr. Tran had just a few short hours to make all the necessary arrangements with the Hospital Administration and Compliance team to bring Romelia outside during such a fragile time and to find the mariachi band and arrange for their 45-minute performance at the Pleasanton hospital.
"As a community hospital, we've had a long-standing tradition of providing compassionate and personalized care to the residents of the Tri-Valley," says Shaké Sulikyan, Executive Director of ValleyCare Charitable Foundation. "ValleyCare Charitable Foundation and its donors helped create this important program because we know that the dying process and memories of the experience can have long-lasting effects on the patient's loved ones as well as on the care team. We are thankful to Betts Cravotto, Dr. Minh-Chi Tran, Dr. Silvia Loica-Mersa, Dr. Kathleen Jia, Dr. Timothy Foeller, the nursing staff, volunteers, and Hospital Administration for bringing this innovative project to patients at our local hospital."
ValleyCare Charitable Foundation (VCCF) is an independent, not-for-profit 501(c)(3) charitable organization dedicated to the health and betterment of the Tri-Valley through our ongoing funding of our community hospital and its innovative medical programs. Forward-thinking and community-driven, we help ensure that you and your loved ones have access to world-class medical care and life-saving treatments and technology. For more information about VCCF or to donate to The Wish Project, please visit givevalleycare.org/wishproject, email vccharitable@stanfordhealthcare.org, or call 925-373-4560.
###
Contact:
Shaké Sulikyan, Executive Director
Phone: (925) 373-4560
Email: vccharitable@stanfordhealthcare.org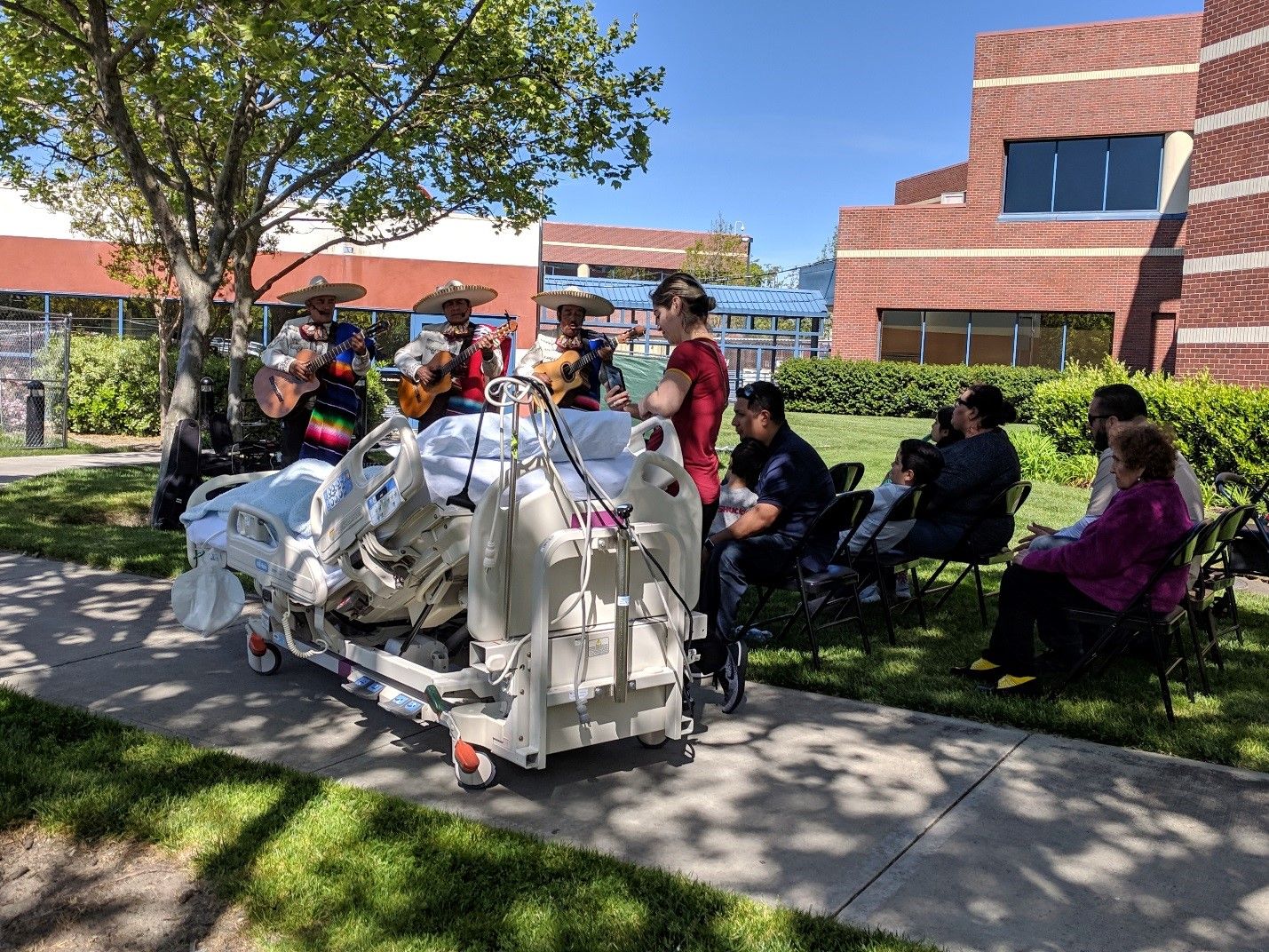 Romelia and her family, including children, children-in-law, grandchildren, and sister-in-law, enjoying the mariachi band.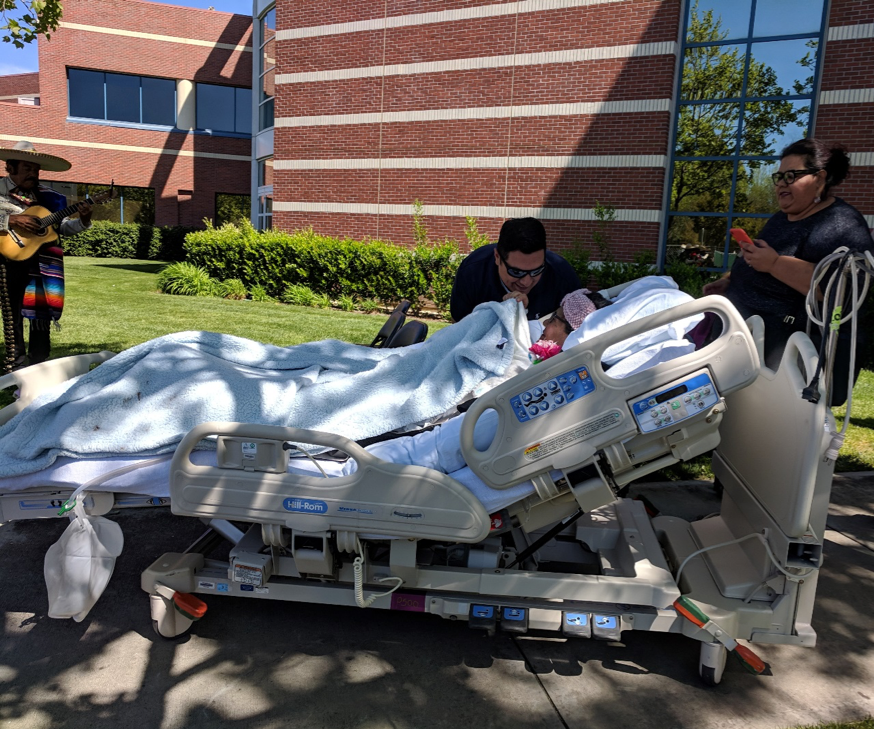 Romelia with her son, Ronaldo and daughter, Nancy.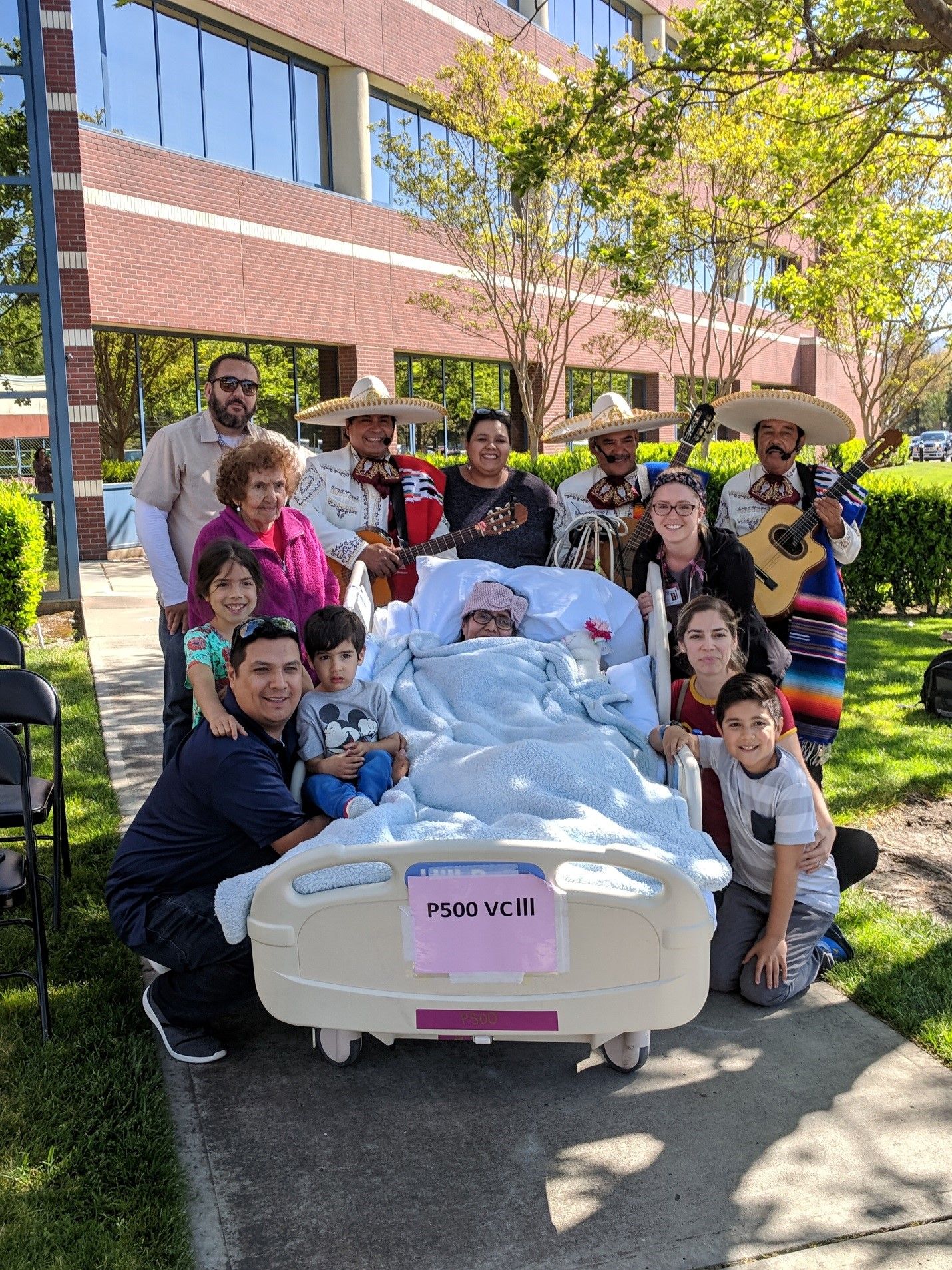 Romelia with her family, the mariachi band, and her nurse, Andrea.