Students Raise Money for Stanford Health Care - ValleyCare
For Immediate Release: September 6, 2016
Pleasanton, CA – Logan Noleroth, Grant Rule, and Andrew Lau, students at Walnut Grove Elementary School in Pleasanton, have proven that you are never too young to care about your community. In August the three boys presented $73 to Stanford Health Care – ValleyCare's Dulce Donesa-Manto, Patient Access Services registrar, to support children admitted to the local hospital. "I was touched by what the boys did and amazed by their maturity," Donesa-Manto reflected.
In conjunction with learning about hospitals and hospital administration during a Genius Hour program at their school, Grant, Andrew, and Logan decided to take action and raise money for a worthy cause. They came up with the idea of a bake sale and proceeded to create advertising flyers and posters, bake the goodies, and then sell them at Walnut Grove's Back-To-School Night. The entire proceeds of the bake sale were donated to the hospital.
The Genius Hour program, managed by Mrs. Kathryn Peters, is focused on providing students the time to make a difference in the world. The passion and creativity that Andrew, Logan, and Grant have demonstrated shows great promise for the impact our young generation can have on the health of the Tri-Valley community.
If you would like to make a donation to Stanford Health Care – ValleyCare, please contact ValleyCare Charitable Foundation at 925-373-4560 or charitablefoundation@valleycare.com.
ValleyCare Charitable Foundation is a 501(c) (3) corporation with the sole purpose of raising funds for Stanford Health Care – ValleyCare. ValleyCare Charitable Foundation has been generously supported by the Tri-Valley Community for over 50 years and is dedicated to keeping quality health care available to you and your family when you need it.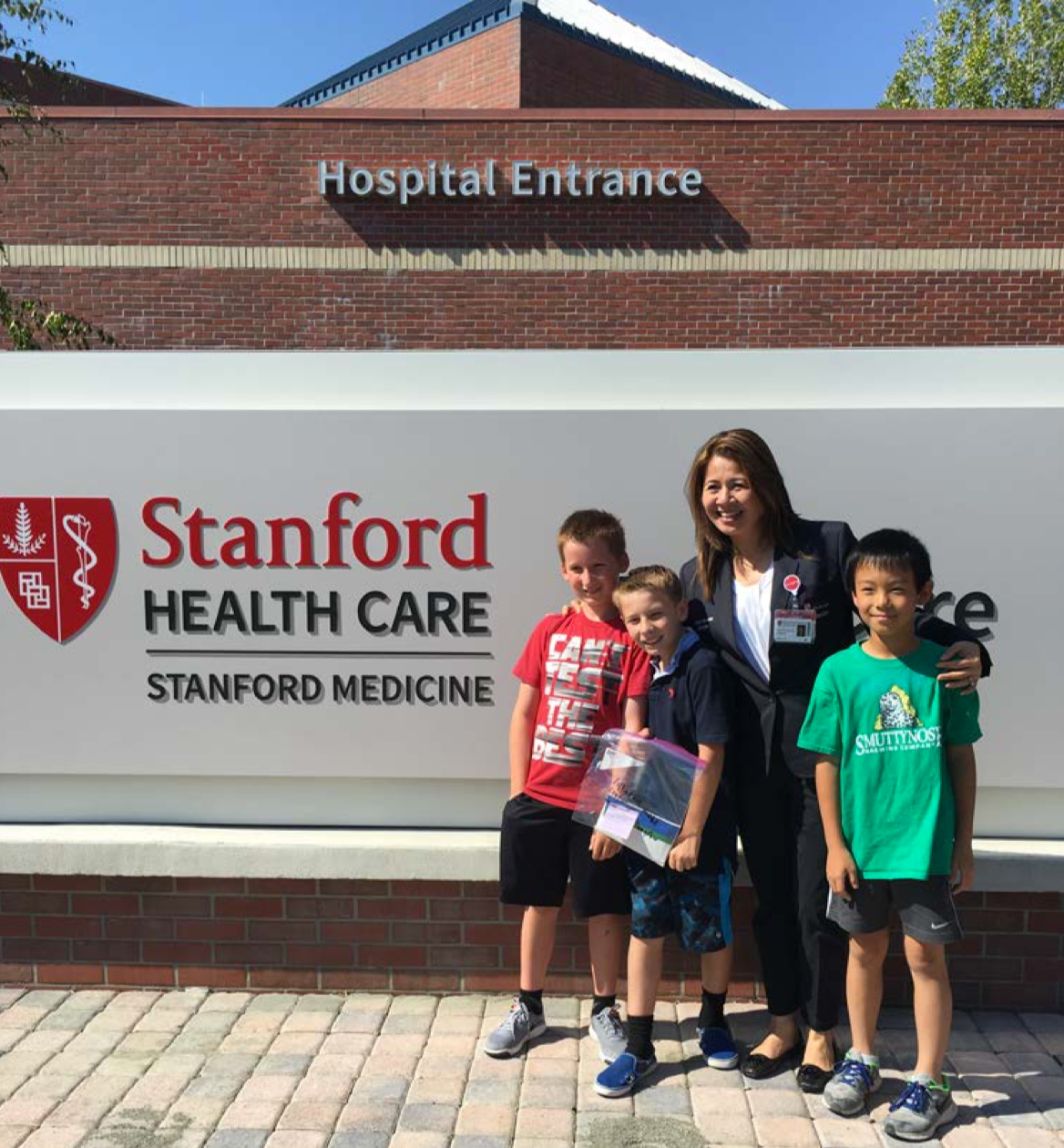 Walnut Grove Elementary School students present donation to Stanford Health Care ValleyCare employee. Pictured from left are: Logan Noleroth, Grant Rule, Dulce DonesaManto, and Andrew Lau.
Contact: Shaké Sulikyan, Executive Director
ValleyCare Charitable Foundation
925-373-4560
charitablefoundation@valleycare.com