Local Dentists and Concannon Vineyard Support Breast Cancer Patients Through Donations to the Women in Need Fund
For Immediate Release: October 28, 2019
Livermore, CA --Getting the news that you have breast cancer can be devastating, particularly if you are underinsured or have high medical deductibles and co-pays. ValleyCare Charitable Foundation's Women in Need fund continues to bridge financial gaps for local patients coping with breast cancer.
This month the Women in Need fund received a donation of $8,120.18 from Dentists Against Cancer and a $2,700 donation from Concannon Vineyard. "Our Hospital was built by the community to meet the healthcare needs of the community," said Shaké Sulikyan, Executive Director of ValleyCare Charitable Foundation. "Sixty years later, we continue to partner with the community, including local businesses and organizations, to fund pioneering programs and services that meet the growing and changing needs of our patients. We are thankful to Drs. Jeff Bueno and Tom Sellick and everyone at Concannon Vineyard for supporting this important program that has touched the lives of hundreds of patients, their family, friends, colleagues, and neighbors."
Created in 2010 by Drs. Bueno and Sellick, the Women in Need fund has helped over 575 local patients, giving them much-needed support, including providing post-mastectomy camisoles and compression garments which allow breast cancer patients greater comfort when moving around and help in the healing process.
"We founded Dentists Against Cancer in memory of our mothers, Barbara Bueno and Margaret Sellick, both of whom passed away following extensive and courageous battles with breast cancer," said Dr. Bueno. "Gradually, our feelings of grief began to transform into a desire to help make a difference," so they formed the nonprofit organization to raise funds for breast cancer patients, hosting the annual Tri-Valley Memorial Charity Golf Tournament. Proceeds from the event are used to assist local patients.
Dr. Bueno went on to say, "This past year we did not have our annual golf tournament, but we did continue our fundraising effort….With the help of friends and family, including our friends at Main Street Brewery, we are still able to place over $8,100 into the Women in Need fund."
The fund also received a donation from Concannon Vineyard through their Cab for a Cause Month fundraiser and the auction held during their Cabernet Sauvignon celebration finale, A French Affair. Concannon donated $1 for each 750 mL bottle of Concannon Vineyard Reserve, Heritage, and Clone Cabernet Sauvignon sold at their estate during the month of September and 100% of the event's silent auction proceeds. Many local businesses generously donated items that were auctioned off during the September 28 th celebration, held under Concannon's Grape Arbor. The evening included French cuisine, live music, and Bordeaux wine varieties.
"Concannon Vineyard has been a part of the Tri-Valley community since 1883. We have a strong history in the Livermore Valley, and we are committed to helping our local community. We were excited to create a program where we could support such a worthy cause and get our community involved. We'd like to thank everyone who donated, as we exceeded our proposed fundraising goal. We were proud to support the Women in Need fund, and since our Cab Month Celebration is right before Breast Cancer Awareness Month, the timing was perfect to help raise awareness and inform our community how they could help," said Merridith Robertson, Concannon's marketing representative.
A French Affair's program included a touching testimonial by Blanche, a beneficiary of the Women in Need fund. She has courageously battled breast cancer twice and was able to rely on the Women in Need fund to help her during and after her treatment. "I can't imagine how I would have paid for my breast cancer support items without this fund. Because of this program, I didn't have to worry about those bills, instead put my energy into working with my wonderful medical team at Stanford Health Care – ValleyCare to beat the cancer."
A woman in the United States has a 1-in-8 chance of developing breast cancer in her lifetime, according to the Office of Disease Prevention and Health Promotion. Thus, the need for assistance from the Women in Need fund continues to grow each year. This October, in honor of Breast Cancer Awareness Month, join Drs. Bueno and Sellick and Concannon Vineyard by donating to ValleyCare Charitable Foundation's Women in Need fund to support local breast cancer patients. To make your donation, visit givevalleycare.org/donate or call 925-373-4560.
ValleyCare Charitable Foundation (VCCF) is an independent, nonprofit 501(c)(3) charitable organization dedicated to the health and betterment of the Tri-Valley through our ongoing funding of our community Hospital, Stanford Health Care – ValleyCare (SHC – VC), and its innovative programs. Forward-thinking and community-driven, we help ensure that you and your loved ones have access to world-class medical care and lifesaving services and technology. To learn more about VCCF and the impact of donations at SHC – VC or to make a donation to support world-class medical care and programs at the Hospital, visit givevalleycare.org or call 925-373-4560.
#####
Contact:  Shaké Sulikyan, Executive Director
Phone: (925) 373-4560
Email: vccharitable@stanfordhealthcare.org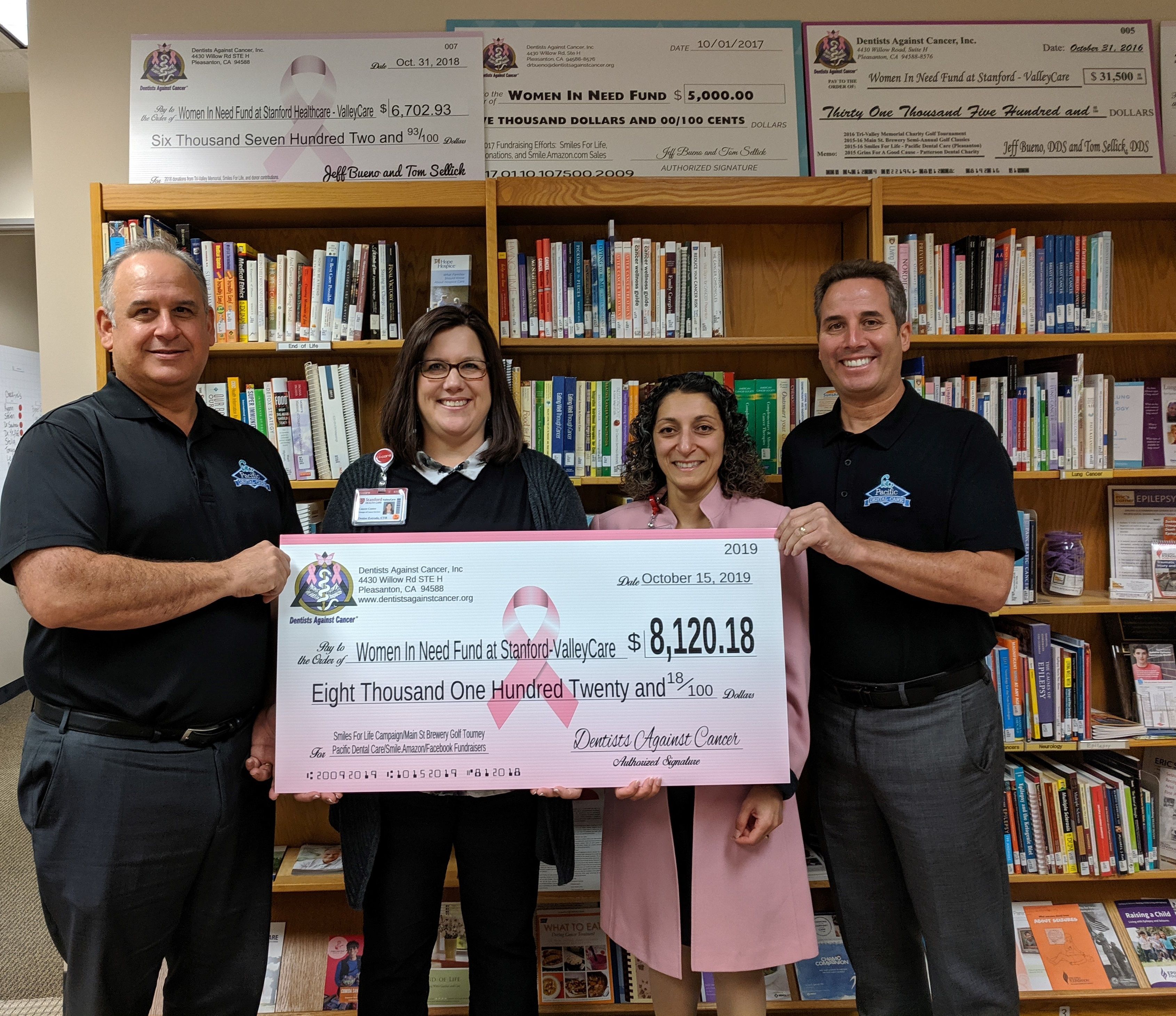 (Pictured from left to right: Dr. Tom Sellick; Denise Estrada, SHC – VC Cancer Services Manager; Shaké Sulikyan, VCCF Executive Director; and Dr. Jeff Bueno.)