Eagle Scout Service Project Benefits Young Patients in Urgent Care
For Immediate Release August 29, 2019
Stanford Health Care – ValleyCare's (SHC – VC) young Urgent Care patients and visitors are now the fortunate beneficiaries of Blake Kenney's enthusiastic efforts to become an Eagle Scout.  An Eagle Scout Service Project gives a Boy Scout the opportunity to demonstrate leadership of others while performing a project for the benefit of the community, and Blake has done just that.
Blake, a Troop 908 Boy Scout and Amador High freshman, is an avid reader, and he knows the comfort and distraction books can bring. Blake wanted to share his love for reading with his greater community, so for his Eagle Project he organized and supervised the collection of around 360 children's and teen's books to be gifted to the young people who visit SHC – VC's two Urgent Care facilities either as patients or as family members of patients. He got the community so excited about his project that he was also able to collect $495 in monetary donations, which will be used to purchase more books when the need arises.
"We're so grateful that Blake chose SHC – VC Urgent Care as the recipient of his charitable work," said Anita Petagara, Clinical Manager of SHC – VC Urgent Care. "Having books available to our pediatric patients provides a level of comfort during what can be a scary experience.  The team looks forward to being able to provide these books to children in our care.  It is youth like Blake that help to make our community a better place, and we are so happy to have met him."
Earlier this summer, Blake and his team of volunteers distributed door-hangers in three Pleasanton neighborhoods, asking the community for donations of new books to benefit the SHC – VC Urgent Care, and Blake was overwhelmed with the response! He had included his photo and email address on the door-hangers, resulting in many appreciative messages from eager donors. In fact, even after the designated weekend for collection, the monetary donations and requests for book pickups kept coming.
Once the books were collected, Blake supervised his team while they sorted the books and placed a label in each one that reads, "You may take this book home. Donated by Blake Kenney, Eagle Scout Project, 2019, Troop 908." They then packaged the books and brought them to SHC – VC's Dublin Urgent Care, where the books were received with joy and appreciation by Anita Petagara, Clinical Manager of SHC – VC Urgent Care; Ryann DeGraff, Executive Director of Operations at SHC – VC; and Shaké Sulikyan, Executive Director of ValleyCare Charitable Foundation.
"We are so honored to be the beneficiaries of Blake's Eagle Project," said Sulikyan. "It's amazing what this community can do when they band together for the greater good. It is the Charitable Foundation's distinct pleasure to facilitate Blake's wonderful donation to the young people who will find comfort from these books."
Contact Information:
Shaké Sulikyan, Executive Director
Phone: (925) 373-4560
Email: vccharitable@stanfordhealthcare.org
#####
ValleyCare Charitable Foundation (VCCF) is an independent, nonprofit 501(c)(3) charitable organization dedicated to the health and betterment of the Tri-Valley through our ongoing funding of our community Hospital, Stanford Health Care – ValleyCare (SHC – VC) and its innovative medical programs. Forward-thinking and community-driven, we help ensure that you and your loved ones have access to world-class medical care and lifesaving services and technology. To learn more about VCCF and the impact of donations at SHC – VC or to make a donation to support the world-class medical care and programs at the local Hospital, visit givevalleycare.org or call 925-373-4560.
#####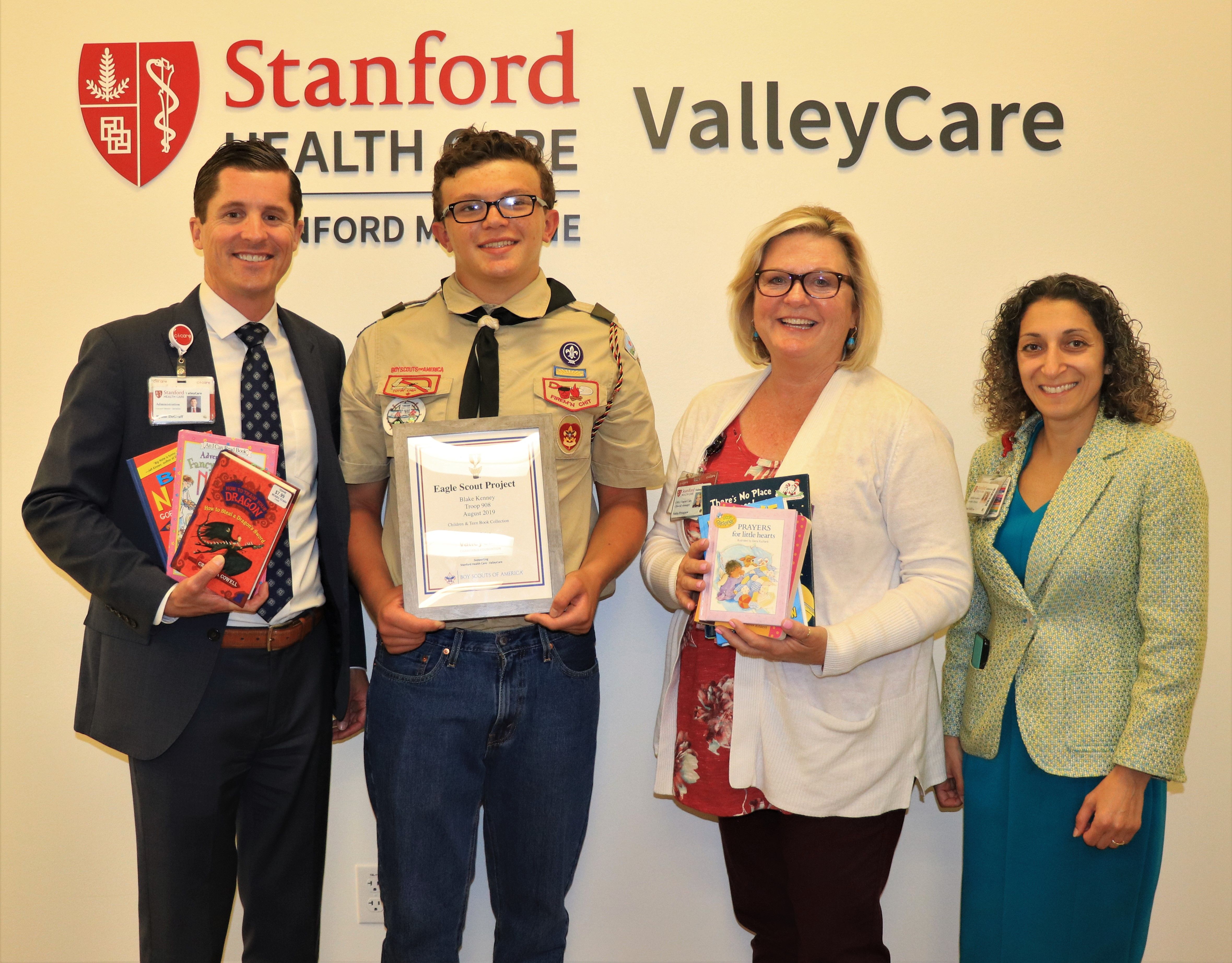 (Pictured from left to right: Ryann DeGraff, Blake Kenney, Anita Petagara, and Shaké Sulikyan. PC: Gayle Cowan)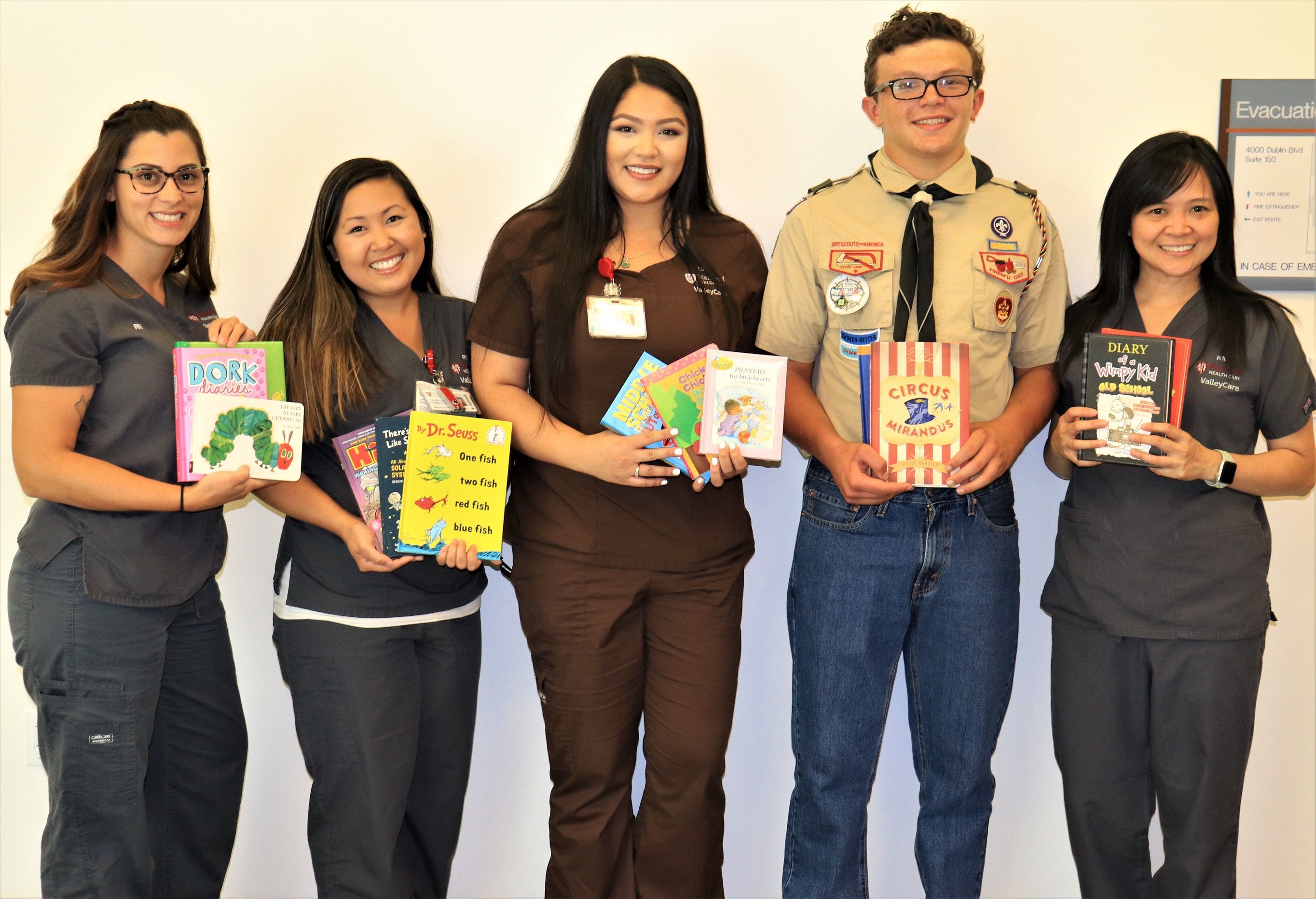 (Pictured: Blake Kenney with Urgent Care nurses. PC: Gayle Cowan)