Driving Out Cancer, a Personal Mission
For Immediate Release: February 15, 2019
Livermore, CA -- Rick Avila, a racecar driver from Pleasanton, is on a personal mission to Drive Out Cancer. The 55-year-old first noticed abdominal symptoms of a Neuroendocrine Tumor (a rare tumor that arises from a person's neuroendocrine cells; also known as NET) when he was 42. Rick tolerated and ignored the pain for 11 years. Three days after he finally reported the symptoms to his doctor, he was in surgery to remove tumors in his small intestine. He still has many Stage IV NETs in his liver which are not surgically removable.
"I don't consider myself someone who's dying of a fatal disease," says Avila. "Instead I see myself as a survivor of a noncurable cancer." As a racecar driver in the North State Modified Series (NSMS), Rick is making every effort to help as many other cancer patients – present and future – as possible. He's spreading the word to everyone who will listen to pay attention to their body and get symptoms checked early.
In 2018, the NSMS, a traveling modified racing series that competes at facilities in Northern and Central California, dedicated their season to cancer awareness with their Driving Out Cancer campaign and, in partnership with their fans and drivers, raised money for cancer services at Stanford Health Care – ValleyCare (SHC – VC).
"I chose to donate to this cause because of personal involvement with cancer," said NSMS Tech Official Paul Clark. "We had a little 'scare' here in the Clark camp in June 2014, when my wife, Carol, was diagnosed with breast cancer. She's a survivor, and we're getting close to that magical five-year mark at this time. When it was mentioned at the drivers' meeting for our first race of the season that 2018 was going to be the Driving Out Cancer Tour, a couple of race teams stated they would donate 10% of their winnings to the cause throughout the year. Standing next to Nadine at the meeting, I quietly said, 'Oh, yeah. Well, I'm donating 25% of my official's pay this season to this fight.' It was that important to me."
In January, during their awards banquet, the North State Modified Series presented a check to ValleyCare Charitable Foundation for more than $5,500 to support SHC – VC's cancer services. "It takes a special person to turn a tragic experience into a healing one. Rick is that special person," says Shaké Sulikyan, Executive Director of ValleyCare Charitable Foundation. "He bravely shared his personal experience during the season to educate others and inspire their fans and the drivers in the series to talk about cancer. His courage has inspired many and has helped people in their cancer journey. We are honored to be the recipient of the funds raised through this effort and know that they will play a critical role in helping cancer patients who trust our Hospital and physicians with their care."
"We had many drivers and crew members who donated to this cause," said NSMS co-promoter Nadine Strauss. "We gave a report at each race of our progress. One driver, Dustin DeRosier of Cloverdale, donated $360 throughout the season. They were just happy to do it."
ValleyCare Charitable Foundation (VCCF) is an independent, not-for-profit 501(c)(3) charitable organization dedicated to the health and betterment of the Tri-Valley through our ongoing funding of our community hospital and its innovative medical programs. Forward-thinking and community-driven, we help ensure that you and your loved ones have access to world-class medical care and life-saving technology. For more information about VCCF or to donate, please visit givevalleycare.org, call 925-373-4560, or email vccharitable@stanfordhealthcare.org.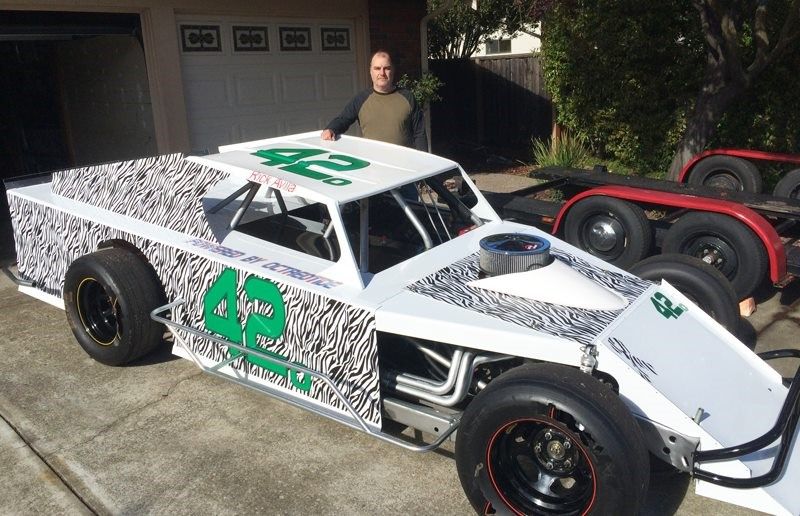 Rick Avila with his #42o modified; the cancer ribbon for NETs is zebra stripes. (Photo courtesy of Rick Avila)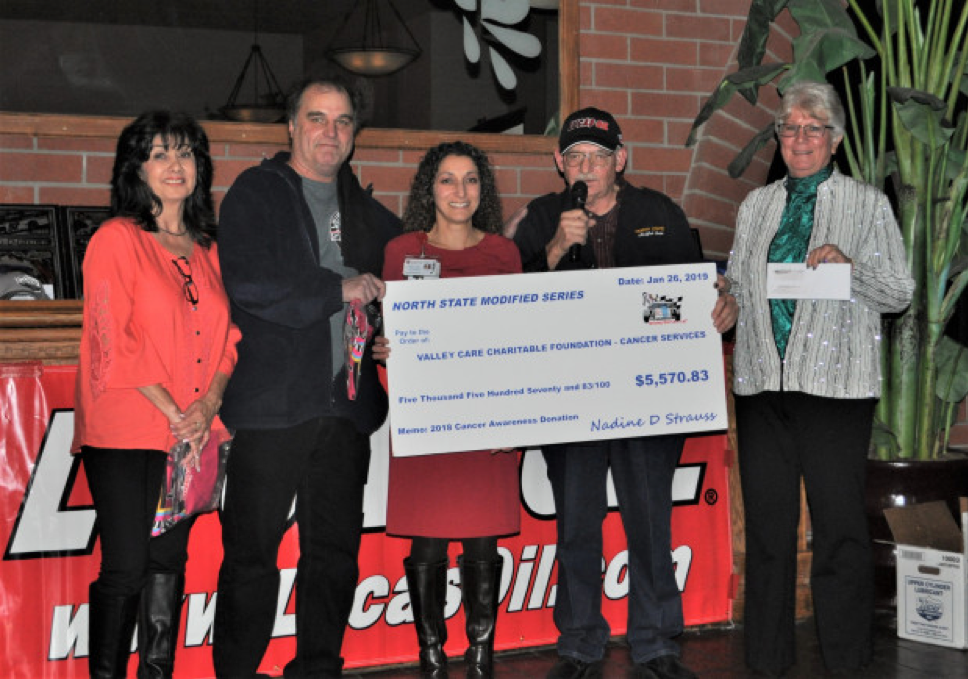 Check presentation during North State Modified Series Season Banquet in January 2019. Pictured from left to right: Sandra Avila, racecar driver and cancer patient Rick Avila, ValleyCare Charitable Foundation Executive Director Shaké Sulikyan, North State Modified Series promoters Bob and Nadine Strauss. (Photo by Carrie Lauenroth)
Contact: Shaké Sulikyan, Executive Director
Phone: (925) 373-4560
Email: vccharitable@stanfordhealthcare.org