Dentists Against Cancer Continue to Support Breast Cancer Patients in Need
For Immediate Release: January 8, 2021
Livermore, CA – Even though COVID-19 has been a major focus for the world this year, it hasn't stopped cancer from upending a patient's life, and it hasn't stopped Drs. Jeff Bueno and Tom Sellick from working hard toward their goal of helping local breast cancer patients in need.
Drs. Bueno and Sellick are the founders of Dentists Against Cancer, a nonprofit organization that established and supports ValleyCare Charitable Foundation's (VCCF) Women in Need Fund, which provides financial assistance to uninsured and underinsured women in the Tri-Valley who are going through breast cancer treatment at Stanford Health Care – ValleyCare and need mammograms, bras, wigs, and other medical supplies. Since they started fundraising in 2009, Dentists Against Cancer has contributed over $127,000 to the Women in Need Fund.
"In the past we have hosted a local golf tournament or worked with local businesses to raise funds," said Dr. Bueno. "This was an off year due to COVID, but we are very thankful for those people that contributed to our efforts. We were able to raise $5,000 for local women in need, mostly through the national program Smiles For Life, which offers teethwhitening services in exchange for donations. We provide our services without cost and are able to choose a local charity that will receive 50% of the proceeds." ValleyCare Charitable Foundation's Women in Need Fund is their charity of choice.
A woman in the United States has a one-in-eight chance of developing breast cancer in her lifetime, according to the Office of Disease Prevention and Health Promotion. In fact, both Dr. Bueno's and Dr. Sellick's mothers' lives were cut short from the disease, giving rise to the dentists' strong desire and determination to help other women going through the same burdensome journey.
"We are so grateful for the dedication of Drs. Sellick and Bueno," said Shaké Sulikyan, President and Executive Director of VCCF. "Since its inception, the Women in Need Fund has helped over 650 patients. The store in our Cancer Resource Center was closed due to shelter-in-place orders between March and September this year, but they are open again, and breast cancer patients are able to get some of their necessary supplies there. The Women in Need Fund is available to help those who need financial assistance. We are also offering virtual wig-shopping.
"Although the pandemic has temporarily altered our way of life, Stanford Health Care – ValleyCare remains dedicated to serving our community, one patient at a time, no matter what," Sulikyan continued, "and VCCF remains committed to funding this meaningful work."
There are numerous ways you too can help local breast cancer patients with a donation to the Women in Need Fund: Visit VCCF's Donate page at givevalleycare.org/donate to give with a credit card, click on "Other" for the fund designation and type in "Women in Need Fund"; call 925-373-4560 to give over the phone or for information about donating appreciated securities or from an IRA account; or write a check payable to ValleyCare Charitable Foundation with "Women in Need Fund" on the memo line and send it to ValleyCare Charitable Foundation, 1111 E. Stanley Blvd., Livermore, CA 94550.
ValleyCare Charitable Foundation (VCCF) is an independent, nonprofit 501(c)(3) charitable organization dedicated to the health and betterment of the Tri-Valley through the ongoing funding of our local Hospital, Stanford Health Care ValleyCare (SHC – VC), and its innovative medical programs. Forward-thinking and community-driven, VCCF helps ensure that patients and loved ones have world-class medical care and lifesaving services and technology close to home, both in times of crisis and in routine times. To learn more about VCCF and the impact of donations at SHC – VC, visit givevalleycare.org or call 925-373-4560.
###
Contact Information: Shaké Sulikyan, President – Phone: (925) 373-4560 – Email: vccharitable@stanfordhealthcare.org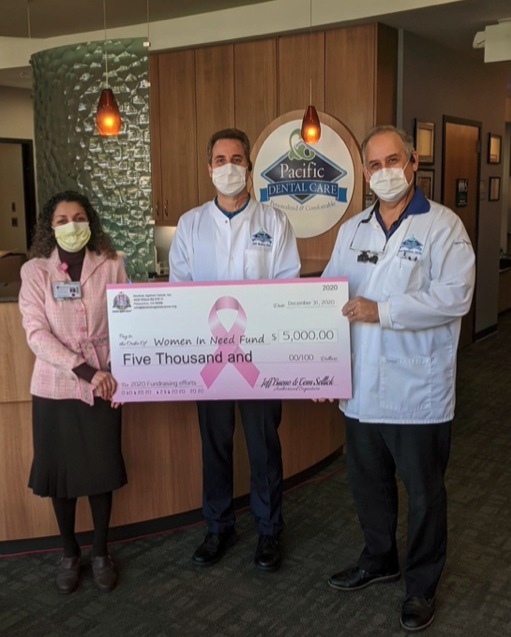 (Pictured left to right: Shaké Sulikyan, President and Executive Director of VCCF; Jeff Bueno, DDS; and Tom Sellick, DDS)