Hundreds of Local Breast Cancer Patients Benefit from Women in Need Fund
For Immediate Release: October 22, 2018
Livermore, CA – According to the American Cancer Society, by the end of 2018 an estimated 266,120 new cases of invasive breast cancer will have been diagnosed in women. A woman currently has a one-ineight chance of developing breast cancer in her lifetime. These statistics continue to make breast cancer one of the most common cancers among women, second only to skin cancer.
That's why Drs. Jeff Bueno and Tom Sellick established the Women in Need Fund at ValleyCare Charitable Foundation in 2010, which provides financial assistance to underinsured and underprivileged patients in Dublin, Livermore, and Pleasanton during their treatment and recovery. "The Women in Need Fund helps underprivileged women battle breast cancer. Whether it's a diagnostic mammogram, a prosthesis after surgery, postoperative compression sleeves, a bathing suit, a wig, or one of many other incidentals, the Fund is there to help as many women as possible," Dr. Bueno said. "Dr. Sellick and I are happy to do this in memory of our mothers, both of whom lost their battles with breast cancer."
Since it was established, the Women in Need Fund has helped over 435 local patients, including a breast cancer survivor who had a double mastectomy and is at risk of developing lymphedema. "The Women in Need Fund provided me with post-surgical camisoles to wear directly after surgery….which made it much easier and more comfortable for me to move around. They also gave me much more self-confidence and self-esteem when I went out in public. After recovery, [the Fund] provided me with compression garments (full-length sleeves and hand mitts) which I wear daily to assist with moving fluid from tissues back to the circulatory system…When I completed healing, radiation, and physical therapy, I was provided with breast prostheses and special bras to hold them. It is hard to express what an incredible effect this had on my emotions and self-esteem. This made it okay (and easy) for me to dress and present myself at work and in public with no discomfort about my appearance. No one would know there was anything missing," reported the patient.
"We are thankful to Drs. Bueno and Sellick for establishing this fund and helping hundreds of women in our community," says Shaké Sulikyan, Executive Director of ValleyCare Charitable Foundation. "Without them, hundreds of local breast cancer patients wouldn't have access to vital programs, products, and services that help in their treatment and recovery. Since insurance plans don't always cover the full cost of such services and products, patients are forced to worry about medical bills and insurance co-payments instead of concentrating on their treatment and recovery. Thanks to the generous donors who've supported the Women in Need Fund over the past 8 years, we are able to alleviate the financial burden, so patients can focus on what's most important – the fight against breast cancer and their recovery – instead of the bills."
"Because of my financial situation," the double-mastectomy patient tells us, "I could not have afforded to purchase any of [the items] on my own. But because Women in Need Fund was there for me and the program managers were so very gracious in making the process work on my behalf, I have enjoyed the benefits of these support items. I continue to be grateful for the kindness and generosity of those who created and administer [the Fund]."
Women who live in the Tri-Valley and need financial assistance to pay for mammograms or other breast cancer services can call for more information on how to access the Women in Need Fund. Call the Breast Cancer Navigation Program at 925-580-1310. If you would like to donate to the Women in Need Fund in honor or in memory of a loved one this October, please visit or contact ValleyCare Charitable Foundation at 925-373-4560 or www.valleycare.com/donate.
###
ValleyCare Charitable Foundation (VCCF) is an independent, not-for-profit 501(c)(3) charitable organization dedicated to the health and betterment of the Tri-Valley through our ongoing funding of our community hospital and its innovative medical programs. Forward-thinking and community-driven, we help ensure that you and your loved ones have access to world-class medical care and life-saving technology.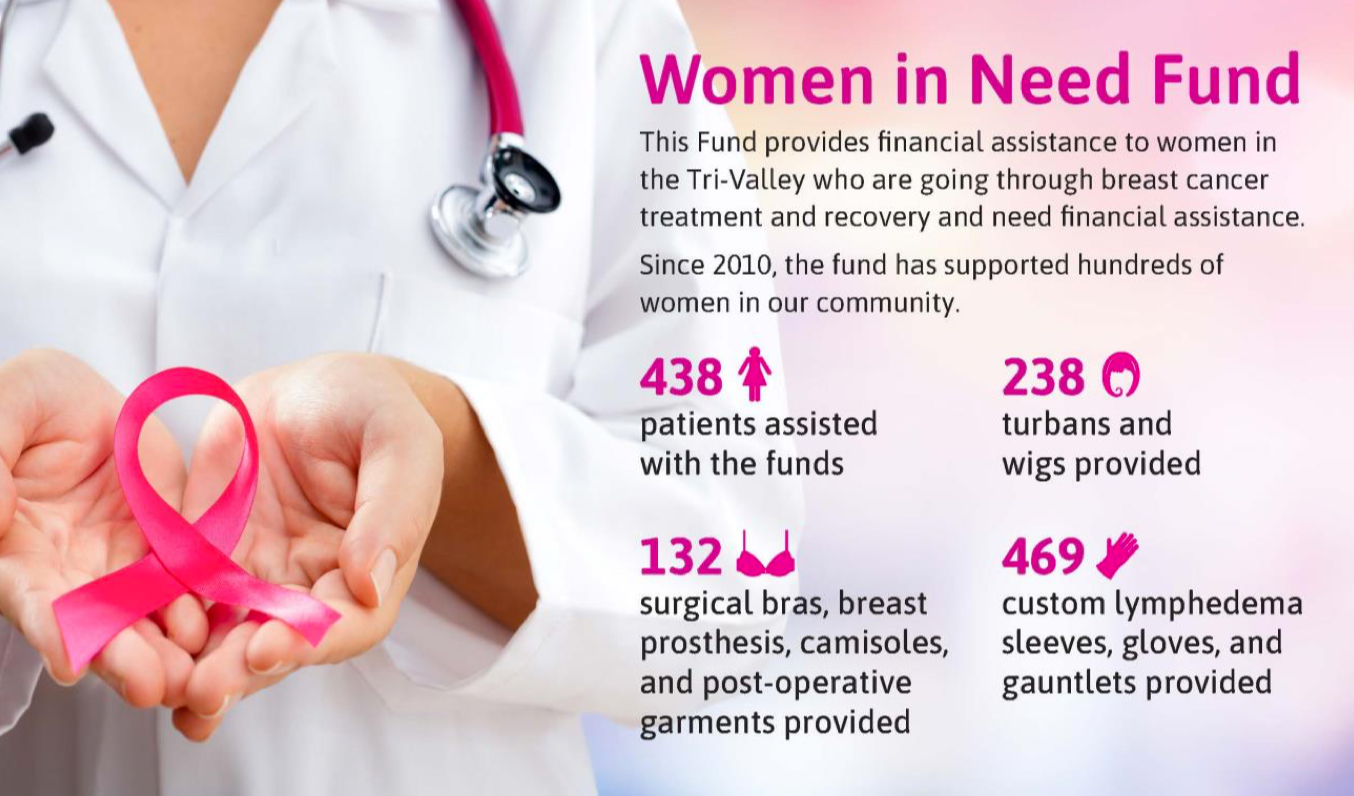 Contact: Gayle Cowan, Administrative Assistant
Phone: (925) 373-4560
Email: GCowan@stanfordhealthcare.org