Bring it Home Challenge Announced During ValleyCare Charitable Foundation's Campaign for Stroke Care Celebration Reception
For Immediate Release: November 18, 2019
Pleasanton, CA -- ValleyCare Charitable Foundation (VCCF) hosted a Celebration Reception for the Campaign for Stroke Care on Thursday, November 14. The celebration included moving and personal remarks by Lynn Seppala and Don Ritchey, two of VCCF's major donors and Tri-Valley residents who are passionate about having a stroke program in the community. The evening concluded with the announcement of the Bring it Home Challenge.
The Campaign for Stroke Care has been a tremendous success already. Thanks to donations from the community, Stanford Health Care – ValleyCare is providing cutting-edge emergent and acute stroke care to the people of the Tri-Valley. Now it's time to bring the Campaign home!
Thursday's reception began with remarks by Rick Shumway, CEO and President of Stanford Health Care – ValleyCare, who expressed his heartfelt appreciation to the donors and the staff for helping to launch the stroke program, which was recently accredited as a Primary Stroke Center. He explained that the job of The Joint Commission surveyors is to "find all the things you're supposed to fix before they will allow you to accept stroke patients." He went on to say, "In my entire career, I have never seen a surveyor from The Joint Commission get emotional…. Our surveyors were so struck by the things that we're doing not only internally, but also for and with our community, that they became very, very emotional."
Shumway and Dr. Prashanth Krishnamohan, Medical Director of Neurology and Stroke Program, Stanford Health Care – ValleyCare, and Clinical Assistant Professor of Neurology, Stanford University, shared that the stroke program is already changing lives in our community. Dr. Krishnamohan elaborated that between December 2018 and August 2019 the Hospital had activated the stroke-response procedures, known as Stroke Alerts, roughly 100 times. In the first 40 days following The Joint Commission survey and the Hospital's acceptance of ambulances carrying stroke patients, SHC – VC called 45 Stroke Alerts. "To have this kind of activity in the first month really demonstrates why this program is so important to our community," said Shumway.
Lynn Seppala, who had a stroke 27 years ago, shared his stroke story and motivation for supporting the program. "Joan and I are so proud to contribute to this program," he said. "It is near and dear to our hearts because we know the suffering and the agony and the pain, not only for the stroke victim, but also for the family, friends, and neighbors. If you get one person that is saved from the disastrous consequences of a stroke, you have 100 people who are feeling relieved."
The final guest speaker for the evening was Don Ritchey, a Stoneridge Creek resident who moved to Pleasanton two years ago with his wife, Sharon. In July Ritchey was driven by his wife to the SHC – VC Emergency Department with stroke-like symptoms. "We were fortunate that the stroke team was here, trained, and prepared to act. The team, which included six or seven people, assembled quickly and did the full stroke protocol. The conclusion, to our surprise and relief, was that it was not a stroke. The CT scan determined that there was a different, but equally severe infection" that required immediate transfer for higher-level, specialized care. Ritchey had surgery the next afternoon, which resulted in "a good outcome." He went on to say, "Sharon and I see Stanford Health Care – ValleyCare as a great community resource…. Certification by The Joint Commission is a real milestone that validates what's been achieved in a very short period of time….In my mind, the primary purpose of the certification is to assess, diagnose, and emergently treat a stroke condition. What is still to be achieved is the post-stroke support services and state-of-the-art rehabilitation care to help patients return to functionality and to well-being. That is the next milestone and need."
That's why the Ritcheys have joined forces with the Seppalas to equally sponsor the Bring it Home Challenge. We invite the community to contribute to VCCF's Campaign for Stroke Care by going to givevalleycare.org/stroke, calling 925-373-4560, or mailing a check payable to VCCF to ValleyCare Charitable Foundation, 1111 E. Stanley Boulevard, Livermore, CA 94550. All new contributions will be matched, dollar for dollar up to $170,000, by the Seppalas and the Ritcheys.
"The additional $340,000 will help VCCF and Stanford Health Care – ValleyCare bring to fruition the extensive stroke care program that the Tri-Valley residents need," said Shaké Sulikyan, Executive Director of ValleyCare Charitable Foundation. "Thanks to the incredible generosity of Lynn and Joan Seppala and Don and Sharon Ritchey, the Bring it Home Challenge will help fund state-of-the-art rehabilitation services and equipment, stroke support services, a multidisciplinary stroke clinic, training and education, and much more, right here, in our community."
Since someone in the United States has a stroke every 40 seconds, anyone in our community may suffer a stroke at any given time. Timely emergent and acute care, as well as robust post-discharge services, can make the difference between return to one's normal life, a lifetime of disability, or death. "Donations to the Campaign for Stroke Care are having an immediate and profound impact on your neighbors, colleagues, friends, and loved ones," said Shumway.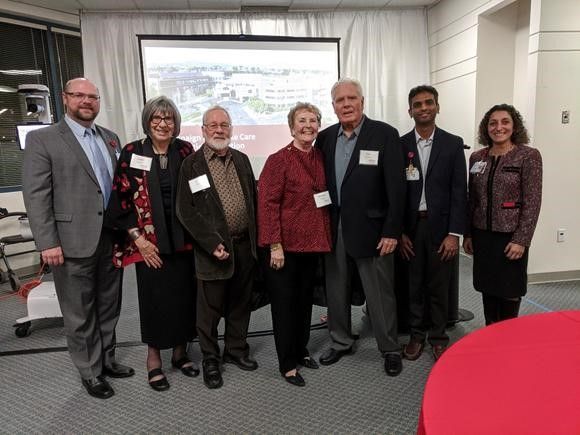 Photo from Campaign for Stroke Care Celebration Reception on Nov. 14, 2019, where the Bring it Home Challenge was announced.
Pictured from left to right: Rick Shumway, CEO and President of Stanford Health Care – ValleyCare; Bring it Home Challenge Co-Sponsors: Joan Seppala, Lynn Seppala, Sharon Ritchey, and Don Ritchey; Dr. Prashanth Krishnamohan, Medical Director of Neurology and Stroke Program, Stanford Health Care – ValleyCare, and Clinical Assistant Professor of Neurology, Stanford University; and Shaké Sulikyan, Executive Director, ValleyCare Charitable Foundation. Photo Credit: Gayle Cowan
Contact Information:
Shaké Sulikyan, Executive Director
Phone: (925) 373-4560
Email: vccharitable@stanfordhealthcare.org