BREAKING NEWS: Bring it Home Challenge Met, ValleyCare Charitable Foundation's Campaign for Stroke Care Exceeds $1 Million Fundraising Goal
For Immediate Release:  December 30, 2019
Livermore, CA – Thanks to an outpouring of donations from the community, ValleyCare Charitable Foundation (VCCF) is excited to announce that we have met the Bring it Home Challenge and have exceeded the $1 million fundraising goal for the Campaign for Stroke Care. "We are honored and humbled by the unprecedented support from our community," said Shaké Sulikyan, Executive Director of ValleyCare Charitable Foundation. "On behalf of everyone at VCCF and Stanford Health Care – ValleyCare, I would like to thank Lynn and Joan Seppala and Don and Sharon Ritchey for their incredible generosity, sponsoring the Challenge and helping to bring the Campaign for Stroke Care to a close."
The Campaign for Stroke Care was launched in July 2018 with a major gift and a matching challenge from longtime Livermore residents, Lynn and Joan Seppala. The goal of the Campaign was to raise $1 million and bring around-the-clock access to lifesaving clinical stroke expertise, along with the most advanced treatment options, to Stanford Health Care – ValleyCare, to meet the healthcare needs of the Tri-Valley community.
"Donations have already dramatically improved outcomes for stroke patients in the community by allowing Stanford Health Care – ValleyCare to fund the launch of its stroke program and become a certified Primary Stroke Center in September 2019," said Dr. Prashanth Krishnamohan, Medical Director of Neurology, Stanford Health Care – ValleyCare and Clinical Assistant Professor, Neurology & Neurological Sciences, Stanford University. "Post-stroke care and rehabilitation play a critical part in improving the function and quality of life of stroke survivors. Now we can move forward with our vision of providing a multidisciplinary team that offers the best clinical rehabilitation program for our Tri-Valley patients."
In November 2019 Don and Sharon Ritchey, Stoneridge Creek residents, joined forces with the Seppalas to equally sponsor this Bring it Home Challenge and bring to fruition the extensive stroke-care program that the Tri-Valley residents need. In just 45 days, the Tri-Valley community, especially many residents of Stoneridge Creek Retirement Community, responded to the Challenge by generously contributing to the Campaign for Stroke Care and helping to close the funding gap. The additional contributions will fund state-of-the-art equipment and rehabilitation services, support services such as in-person and online support groups for patients and caregivers, a multidisciplinary stroke clinic, stroke education and training for staff and the community, and much more.
"We are so grateful for the generosity of the Seppala and Ritchey families, and all those that have participated in the Bring It Home Challenge," said Rick Shumway, CEO and President of Stanford Health Care – ValleyCare. "Their commitment and tenacity in working to ensure that our communities have access to the very best care possible in the greatest times of need will have a significant impact for generations to come.  On behalf of the entire Stanford Health Care – ValleyCare organization, I want to personally thank Lynn, Joan, Don, Sharon, and the many others who have contributed to this worthy effort for their shared vision, and strong commitment to our community."
All funds that are en route to VCCF will still benefit the Stanford Health Care – ValleyCare stroke program. Please visit givevalleycare.org/stroke for more information about the Campaign for Stroke Care.
ValleyCare Charitable Foundation (VCCF) is an independent, nonprofit 501(c)(3) charitable organization dedicated to the health and betterment of the Tri-Valley through the ongoing funding of our local Hospital, Stanford Health Care – ValleyCare (SHC – VC), and its innovative medical programs. Forward-thinking and community-driven, VCCF helps ensure that patients and loved ones have world-class medical care and lifesaving services and technology close to home. To learn more about VCCF and the impact of donations at SHC – VC, visit givevalleycare.org or call 925-373-4560.
###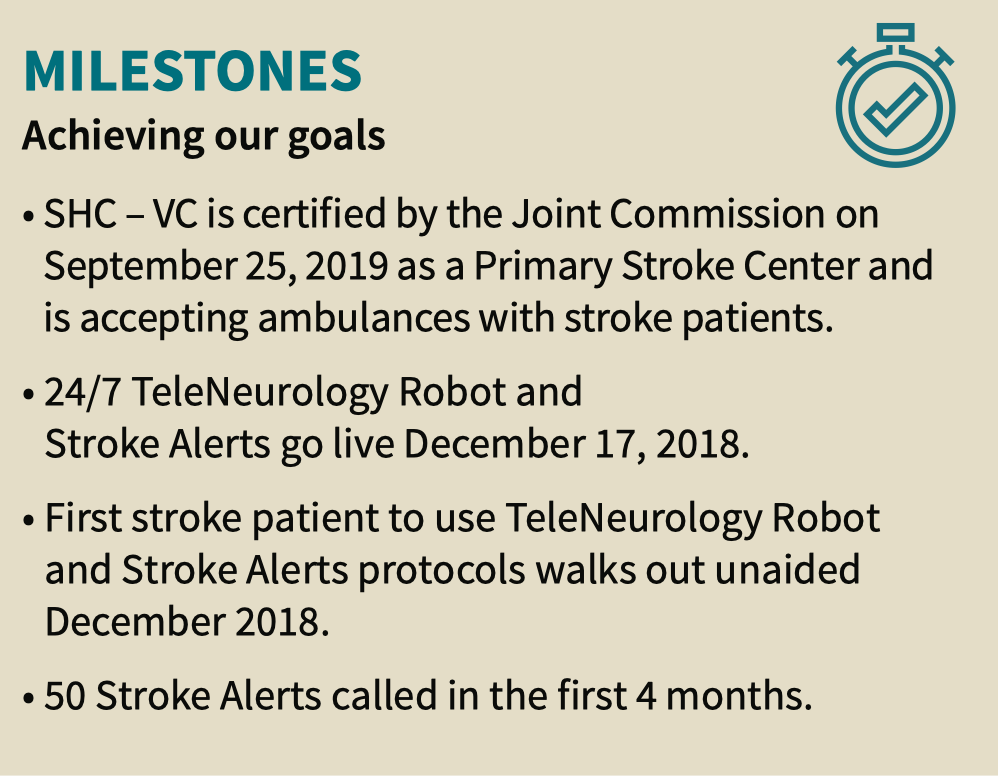 Contact: 
Shaké Sulikyan, Executive Director
Phone: (925) 373-4560
Email: vccharitable@stanfordhealthcare.org