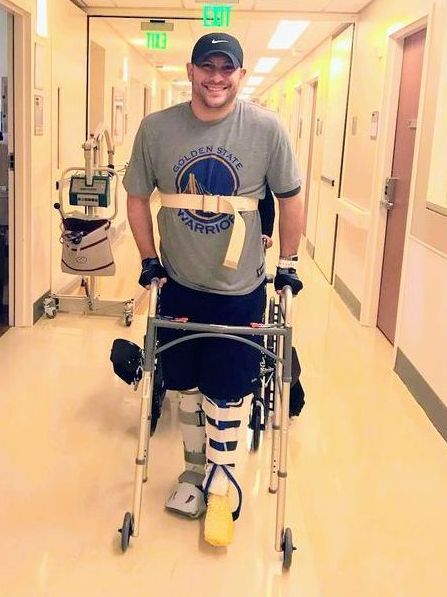 For someone who'd never broken a bone or been in a car accident, Matt Dellon's entire life shifted at the point of impact. He and his wife were heading to a wedding in Santa Barbara with a stop in Morro Bay for the night. Driving on an unfamiliar, winding, dark road with his wife beside him, their dog in the back seat, another car came around a tight curve too fast. It swerved out of control and slammed head-on into Matt's car.
What followed is a surreal blur. He remembers his wife screaming, the eerie silence of his dog, and Matt's inability to move his leg.
He couldn't get out of the car at first, but when he did, he moved on adrenaline. His wife was injured, too. She cracked several ribs, broke her foot, and needed a screw to set it properly.
Matt suffered a broken left femur, a broken left patella, a fractured right ankle, four fractures in his transverse process, and bruises from the seatbelt. "My entire midsection felt like it was on fire from being restrained," Matt admitted. "I knew something was very wrong with my leg, but I had to get out of that car. My wife said we needed to call our family; I said, 'We are family. We need to call 911.' Unfortunately, our cell service was spotty in the remote area of the accident. After several cars passed the scene, spraying up metal and glass strewn across the road from the collision, some good Samaritans stopped and we called for help. The driver of the other car was badly injured too, so we needed medical attention quickly.
"We spent several hours in the ER that night. I smile when I think back to having our dog in the ER while we were being worked on. He was very comforting for us, especially after the trauma we all experienced. The hospital treated him like he was any other family member, which he is to us. He was pretty shaken up, but miraculously didn't sustain any physical injuries. The extent of my wife's injuries wasn't fully realized for several weeks, though. She spent a few weeks in pain and discomfort before finding out why."
Matt is grateful that they survived all their injuries with the help of some excellent healthcare workers. He said, "My surgery was 24 hours after the accident. I had to have four screws in my femur. I spent the first week after the accident at Sierra Vista Medical Center in San Luis Obispo, then they sent me closer to home."
He was transferred to John Muir Medical Center, a five-hour journey in Bay Area traffic, where he spent a week in inpatient rehab before coming home to recover and eventually begin home physical therapy. Once their bones healed and they were cleared to begin outpatient physical therapy, Matt and his wife began seeing therapists at Stanford Health Care – ValleyCare.
"We've seen about six different physical therapists during our recovery, and they've all been exceptional. This entire experience has taught me a lot of lessons, but it's really exposed a lot about other people. I've been overwhelmed by the graciousness and caring of people I'd never met before. That surprised me. You expect certain people in your life to be there for you in your time of need, but I've been overwhelmed by how genuinely good others can be with no expectation of reciprocity. Whether it is people's jobs or just because of who they authentically are. Nurses, doctors, physical and occupational therapists, administrative staff, even ride-sharing drivers, and food or grocery delivery drivers. Everyone has expressed a genuine interest in our story and recovery, and has gone beyond what their job requires."
Matt observed that the heartbeat of the healthcare industry as a whole – and Stanford Health Care – ValleyCare in particular, lies with its people. "From the front desk person who greets you, does the scheduling, helps with insurance issues, to the physical therapists who actually put their hands on you, everyone has an impact on your recovery. Even therapists I haven't worked closely with would say, 'You look good; keep it up' or 'I hear you are making good progress,' and that inspired me to literally and figuratively keep putting one foot in front of the other. Anyone can be a motivating influence; recovery is all about perspective. Everyone at the two Dublin facilities and the Livermore facility has become part of my recovery family. To say they are professional would be an understatement. As a result of their efforts, I can't express enough gratitude or thank all of them enough.
"Everyone at Stanford ValleyCare that I've worked with, dealt with, even just seen, has been motivating, inspirational, and a huge component of my recovery."
He adds with a laugh, "I never thought I'd look forward to going to physical therapy and being tortured, but I've had some great physical and occupational therapists there, in the hospitals, as well as at home. We were very lucky to have survived the accident, but also to have the opportunity to work with them, and be influenced and impacted by them. They continue to show me how much good there is in the world."