Trisha Sukale, Ketaki Lole, and Priyal Saraf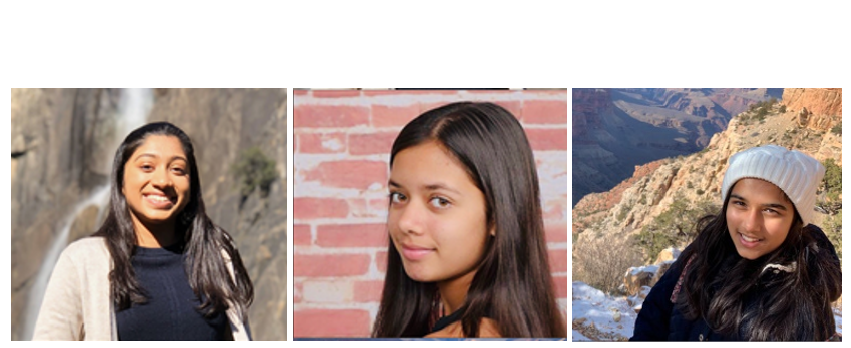 Ketaki Lole, Trisha Sukale, and Priyal Saraf have always had a passion for dancing. Coincidentally, all three young women also feel personally inspired by the compassion and dedication of the Tri-Valley's local healthcare workers. These mutual feelings led the high-schoolers to join forces to raise money for a cause near and dear to their hearts.
Trisha and Ketaki grew up in Pleasanton and received their routine medical care at ValleyCare Memorial Hospital as children. "The doctors at ValleyCare were always patient and compassionate," says Ketaki. "I have known that I want to pursue medicine as a career since middle school. The amazing doctors at Stanford Health Care – ValleyCare have helped me come to that realization."
Trisha explains, "From my earliest memories, ValleyCare has always been the most accessible hospital for my family, and they have never failed to provide exceptional service. The staff has always been kind and genuine. They are the true inspiration for my pursuit of a career in the medical field."
Priyal has only been in Pleasanton for a few years, but she has already felt the importance of having a community hospital nearby. From the moment her friend had to be rushed to Stanford Health Care – ValleyCare for emergency medical care, Priyal wanted to do everything she could to help healthcare workers, the people who work day and night to keep our community safe and healthy.
When COVID-19 shook the world, these three young women wanted to do something to support the selfless healthcare workers that they so admire, and they looked to their passion for dancing as an answer. That's when they decided they could educate their community and raise money for their community hospital at the same time – by giving virtual Bollywood dance lessons to children ranging in age from 5 to 12. In addition to teaching the children the Bollywood dance choreography, they also educated them about the pandemic and its effects on the world. And the money they raised was all given directly to ValleyCare Charitable Foundation, to support Stanford Health Care – ValleyCare's efforts in responding to COVID-19.
Priyal, Ketaki, and Trisha feel that Ronald Reagan summed it up best when he said, "We can't help everyone, but everyone can help someone."