Tri-Valley SOCKs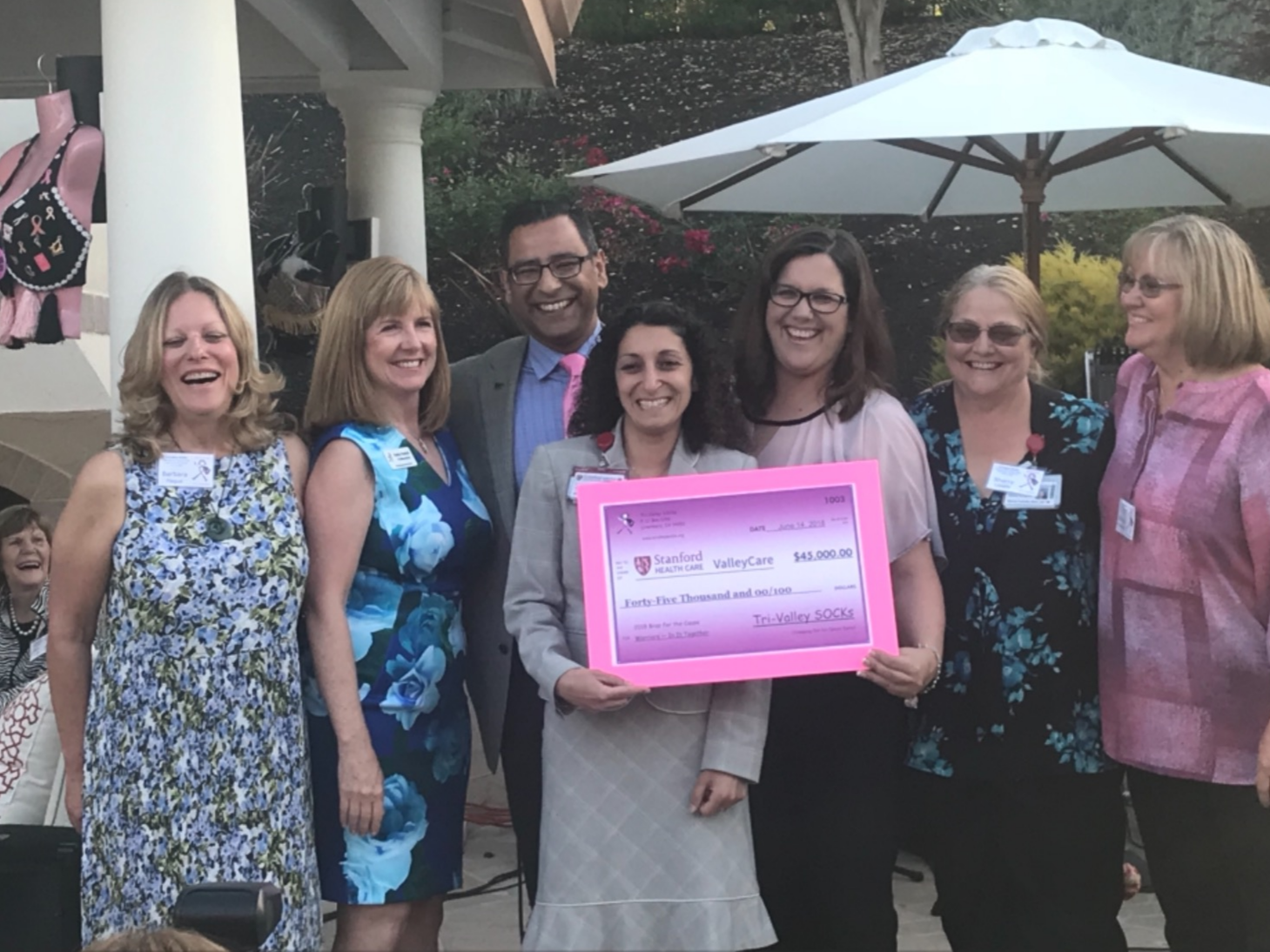 For the women who have experienced breast cancer and for their families and friends, there is Before and After cancer. After, people often want to do something positive, like participating in the annual Tri-Valley Stepping Out for Cancer Kures (Tri-Valley SOCKs) Bras for the Cause walk – a 5-mile course winding through Downtown Pleasanton and into nearby neighborhoods, where locals come out to cheer.
Barbara Roudebush, a longtime breast cancer survivor, former Tri-Valley SOCKs President, and volunteer, explains how Tri-Valley SOCKs started: "A group of us met during the Avon Breast Cancer Walk and decided we wanted to do something that would raise money and keep it local. Our goal has always been to raise money to support local organizations serving uninsured or underinsured women to provide education and treatment for breast cancer, and fund research to find a cure."
 
ValleyCare Charitable Foundation (VCCF) has been a beneficiary of the Tri-Valley SOCKs walk for several years. Tri-Valley SOCKs was especially interested in the Hospital's educational programs and the Patient Navigator program. Roudebush explained, "They really are the ones taking care of us. Most of the people in the Tri-Valley are middle class and are more likely to get breast cancer. ValleyCare Charitable Foundation appeals to us because they are local and community-minded."
Tri-Valley SOCKs donations have supported the Breast Health Nurse Navigator, a certified nurse who gives personalized guidance during diagnosis and treatment, offering a continuum of care. To promote greater awareness and knowledge, donations have helped fund the Breast Cancer Educational Programs, including funding for the Annual Breast Cancer Symposium held each October and the Bay Area Breast Cancer Forum held in February/March. Tri-Valley SOCKs also supports Breast Cancer Support Services, including support groups for newly diagnosed patients, a cancer retreat, yoga and nutrition classes, and much more.
Roudebush added, "When I was going through breast cancer treatment, it was a very scary thing, mortality staring you in the face. For treatment I wanted to stay close to home; I didn't want to travel to Walnut Creek to get radiation. Getting that treatment close by makes it easy for family and friends to support you. It would be very scary to think about being in a community without a community hospital."
Over its 14 years, Tri-Valley SOCKs has raised more than $1.7 million for local organizations. Their walks draw 300 to 400 people, many of whom are breast cancer survivors. All walkers, including the men, wear decorated bras outside of their street clothes. Awards are presented for categories such as most creative, most lighted bra, and best bro-sier (men's bras), making the walk a fun and celebratory event while also raising money for a great cause.
 
Tri-Valley SOCKs sees how the Hospital's breast cancer programs are having an impact. "When the Hospital holds their October Breast Cancer Symposium, we always learn something new. We have several of our core volunteers who have had cancer multiple times and receive their care close to home. We've heard how people have leveraged the Patient Navigator program. We can reach out to them, see them during their treatment and then out in decorated bras." This support is a testament to the community's ability and commitment to help each other while fostering high-quality and personalized health care for family, friends, and neighbors.