Roz Gamble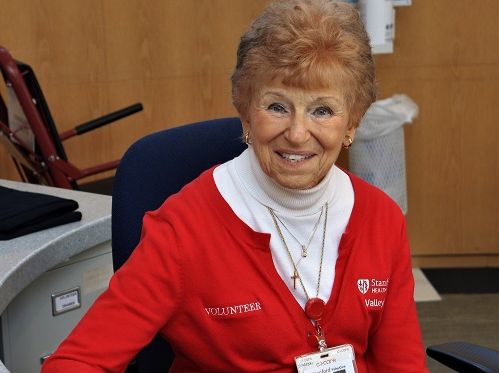 Before settling down in her tight-knit Pleasanton community, Roz enjoyed a life of fashion and glamour. Living in Chicago, she worked as a buyer for Sears & Roebuck; she attended fashion shows and had a satisfying career. These days Roz contributes to fashion in a different and more meaningful way: helping cancer patients in her community find wigs at the Stanford Health Care – ValleyCare Hospital Resource Center.
For 20 years, Roz has volunteered as an Auxiliary member for the Hospital.  She and her husband were buyers for the Gift Shop, she is currently serving in Desk and Floor positions, and at the Cancer Center to name a few. Volunteering and being part of the Hospital Auxiliary has enhanced her life. She is part of a dedicated group whose hard work, time, and efforts provide compassion to patients and families.
As a resident of the Tri-Valley area, she always had a strong desire to serve her community. The Hospital was a natural fit. It has been an essential part of her life where both family and friends have been patients. She knows the importance of having excellent care close to home.
Her excitement extends not only to the Hospital staff and patients, but to its services. She is impassioned by the stroke program and remembers a time when you traveled far from home to receive care. Having a certified stroke program nearby will be a wonderful benefit to the community.
 "Knowing we could be providing nearby stroke care to all in the Tri-Valley, including ourselves, we are glad to give our financial support. They say even the smallest donation goes a long way."
Some people travel far to help around the world, but Roz was called to a different type of service, here, in her community.