Jenna Martin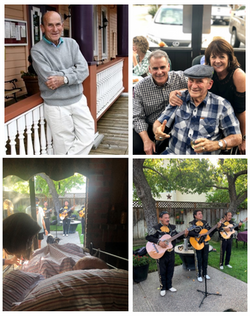 As the Wish Manager for the Make-A-Wish Foundation of San Diego, Jenna Martin was already familiar with the power a wish can have, not just on an individual, but on an entire family and community.  But when Jenna's grandfather, Bob, was nearing the end of his life in summer of 2020, her family was given the opportunity to experience this power on a very personal level with Stanford Health Care – ValleyCare's (SHC – VC's) Wish Project.
"My grandfather believed in giving back to others wholeheartedly," Jenna said. "He was a teacher for 30 years, co-founded the Pleasanton Tulancingo Sister City Association, and served as a translator with the Rotary Club's Wheelchair Foundation, among many other accomplishments. He was a social man with a love of Mexican culture, two attributes that shaped our choice for a final wish for him."
 When Bob was discharged from SHC – VC to live his final days at home, Bob's doctor referred the family to The Wish Project, much to their gratitude. In planning a final wish for Bob with Betts, the Wish Project volunteer, Jenna remembered an article that she had read about The Wish Project bringing a mariachi band to play for another wish recipient. "In nearly every celebration my grandpa was a part of -- a birthday, anniversary party, holiday party, you name it -- there was mariachi music involved. This seemed like the perfect way to celebrate with him while he was still earth-side." She told Betts about the idea, and to her surprise, Betts worked some wish magic: within three hours, a mariachi band was lined up to play at the family home, with COVID-19 precautions in place, the following night.
When Jenna told her grandpa that a mariachi band was coming to play for him, his face lit up in a way they had not recently seen. The wish gave the entire family something positive on which to focus, instead of thinking about the grief that loomed in their future. "When we were feeling sad or overwhelmed, we talked about the mariachi band and it brought just enough of a spark to keep us moving forward," Jenna shared.
On the night of Bob's wish, the family wheeled his bed to the back door of their home to be the guest of honor. Family members and a few close friends attended the socially distanced fiesta with the band. They danced with him, laughed, and asked the band to play his favorite song "way too many times." It was an incredible memory that his loved ones will always hold dear.
"We know how many people it takes to make a wish happen -- the doctors, volunteers, donors, advocates, and a very special mariachi band that will forever hold a place in our hearts," Jenna said. "We are so grateful for The Wish Project and the gift of a wish that we will always cherish."