Eric and Anne Martin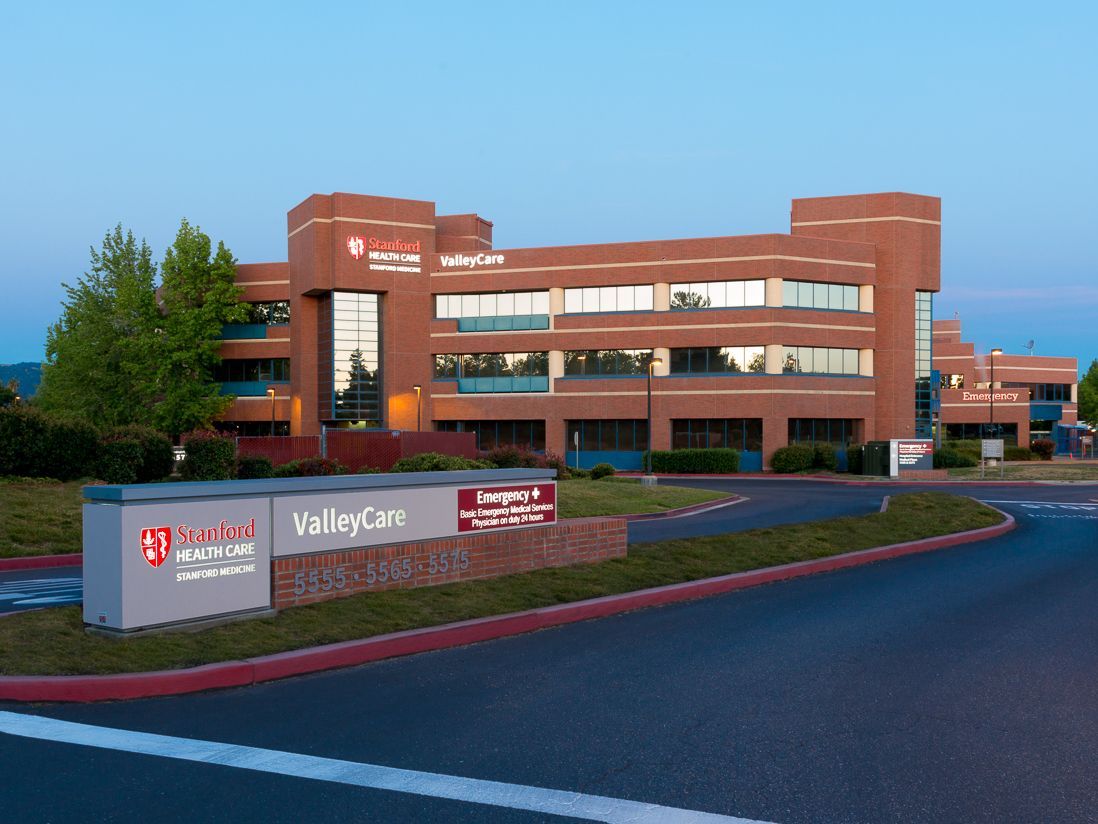 Living near a trusted healthcare facility matters when you have an emergency. At other times, the convenience certainly makes life easier. Just ask Anne and Eric Martin. Their family relies on the high caliber of the medical staff and the care and concern they've experienced over the years.
Anne grew up in Pleasanton. "Our children were born there – both kids. My parents were in and out of ValleyCare a lot. My dad will be 91 in June, and my mom just passed away recently. I was taking one or the other of them so often for a while that I'd go in and the nurses would say, 'Oh, hi. I know you. Weren't you just here last week?' and I'd say, 'Yes. Was that for my mother? My brother? My husband? I lose track.' We'd laugh and joke that I ought to have my own parking spot. We'd always ask if Mike Costello is in the ER. He's great. The nurses are wonderful, too. They run that place."
Eric adds, "I forgot about your brother. He had pancreatic cancer and was treated at ValleyCare over the course of a year and a half. Dr Raj treated him, too. We love Dr. Raj. The staff there are awesome."
Three incidents stand out more than others for both Anne and Eric.
One involved their then infant son, who had virally induced asthma and during an attack he'd start to turn blue. They were at the ER a lot, and they'd gotten to know the nurses. One night, after arriving home from a night out, getting ready to relax, they heard Mikey cough. Eric looked in. Seeing that his fingers and lips were tinged with blue, Eric scooped him up and dashed to the car. Anne enjoyed sharing what happened next: "I'd stayed back to call my parents to come sit with our young daughter. In a short while, I got a call from Eric, asking if I'd bring him some pants. He'd been so intent on getting to the ER, he left wearing only his boxer shorts, a t-shirt, and black dress socks. The nurse gave him a chuckle and a blanket until I showed up with his sweats."
Eric continued the story, "I left with one intention: to get him to the ER as fast as I could. That is really the beauty of having such a top-notch facility so close to home. I think it illustrates why we want to support it and are grateful it is nearby."
The second incident also involved their son, at the age of ten. One day, he woke up and couldn't walk. He was experiencing pain. So they took him to ValleyCare. The doctors admitted him, and he was there for a week. Anne said, "They were amazing. They worked with Stanford. It took them a long time to figure out what it was, but they took very good care of him. I remember he was there over my birthday and they decorated the room. Max, the coffee cart guy – who I'm still really good friends with – sent flowers. They just really took good care of us."
"As I recall," Eric said, "in decorating the room, we used gloves blown up as balloons and toilet paper for streamers and a paper toilet seat cover for her hat."
Anne added, "The nurses were all in on it. It was great. It made a difference because it was a very scary time for us. They finally found out it was Spondyloarthropathy, or reactive arthritis."
"Turned out to be an overreaction of his immune system that began attacking his joints," Eric explained. "Once they isolated what it was, he went to a specialist at Stanford for about 5 years."
The treatment involved anti-inflammatory drugs, steroids, and then supplements – calcium, fish oil. He went from a little star athlete to a kid who couldn't play to his full potential. But by high school he played lacrosse for 4 years and seemed back to normal by his senior year.
The third life-changing interaction with ValleyCare involved Eric's back pain. He'd gone to a chiropractor, then went to an MD, but neither could figure out what was causing it. After seeing the MD, though, Eric was advised not to go on their planned trip to see the Country Music Awards in Nashville. Eric admits, "I was in serious pain, but I said we were going anyway. When I got back, at some point while Anne was away on a cruise, I collapsed on the floor. My son took me to the ER."
Eric had cracked a rib, but that didn't account for why he had the back pain or the other symptoms. One doctor came into Eric's room after he was admitted and said they detected kidney issues. That doctor left, and Dr. Raj walked in.
"When I saw her, I realized she had spoken at my Rotary club; Bob Shapiro, Chairman of ValleyCare Charitable Foundation's Board of Trustees, had introduced her as the wonderful new doctor they'd recruited for cancer care. She said, 'We are not certain yet, but we think you have cancer.' I remembered how much Bob thought of her and what they had gone through to get her, so immediately I was very comfortable with the idea that she would be my doctor. I didn't have to go, 'Oh, my gosh, I have cancer. Where am I going to go? What am I going to do?' Instead, knowing she'd be my doctor was a huge comfort to me."
After tests, Eric was told he had multiple myeloma, a cancer that attacks the bones. This happened before ValleyCare became Stanford Health Care – ValleyCare, and Dr. Raj was affiliated at that time with UCSF. Thankfully, she was up on the latest treatments and complications that can occur. Eric explained, "Because of the kidney issue, she arranged for a procedure called plasmapheresis at ValleyCare. The cancer treatment was affecting my kidneys, so this was necessary to try and save my kidneys and avoid dialysis. The doctors at UCSF were impressed that Dr. Raj knew of the procedure, as many doctors at that time didn't. I've talked to other patients treated for this type of cancer, and they lost kidney function and had to go on dialysis."
Eric continued, "I've had wonderful doctors throughout all this, and my body responded so well, and I've been very, very blessed in how I've been treated. The nurses were awesome, all of them! The caring attitude of all of the doctors and nurses made such a difference for me.
"One time, when I was in the infusion center at Dr. Raj's office, another of my doctors was there, getting a treatment. It speaks to the quality of the care."
Anne added, "I want to say how much I appreciated Dr. John Yee. He was my mom's doctor for years. My mom was a challenging, sick patient, and he took so much personal interest in her, her care, and in our family. He just cared for the whole family. He was my dad's doctor, too. In this fast-paced world we live in, you don't often see that."
"With this next donation, I feel it is from Anne, Ryan Duncan Anderson (my business partner), and myself.  We all feel blessed to have Stanford Health Care – ValleyCare in our community," Eric noted.