Investments in our Hospital's Emergency Department (ED) have helped fund state-of-the-art equipment such as IV pumps, patient monitoring systems, chest compression systems, and more, greatly improving patient outcomes. 

More recently, donations have helped fund our Emergency Department refresh project to modernize the space. This includes new flooring and furniture, new paint, upgrades to the nurses' and doctors' workstations, improved airflow, and more. These enhancements really make a difference in how we deliver our patient services.
Due to this refresh project:
Patients and their loved ones comment the new enviorment feels more cheerful and calming
Staff workflow has improved, with increased availability to workstations, which better facilitates monitoring and coordinating of patient care
It's safer, replacing vinyl with rubber flooring 

Our staff is grateful, and we would like to share with you some of their appreciation for what you've helped us achieve.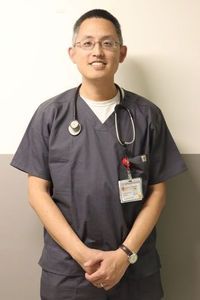 "The Physicians of the Stanford Health Care – ValleyCare Emergency Department are extraordinarily grateful for the generosity shown by individuals and institutions who have donated to the ValleyCare Charitable Foundation to directly benefit the Emergency Department. We have benefited in so many ways and are very grateful.
The most recent influx of donations has supported our investment in the ED refresh, which has improved the design of our workspace, allowing for improved utilization of our existing space and creating more workstations for additional physician and nurse staffing.
Your contributions in the past have really provided significant benefits and will continue to do so in the future. We hope to continue in our mission to provide world-class, timely, compassionate emergency medical care to our community, and your contribution is absolutely appreciated." - Dr. Edward Kan, Emergency Physician at Stanford Health Care – ValleyCare